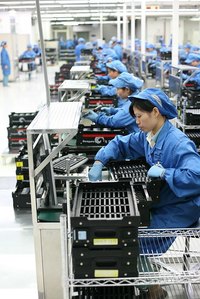 ISO standards have been steadily gaining popularity since their introduction in 1947 by the International Organization for Standardization. Companies around the world utilize ISO certification to achieve a competitive advantage in efficiency, marketing, profitability and international business relations. Keeping your company up to date on international standards can give your business the edge it needs to succeed in global markets.
Significance
ISO standards contribute more to a company's economic sustainability than ever before. An increasing number of manufacturers and business customers will not even do business with a supplier that is not ISO certified. According to www.indianindustry.com, ISO certification is now effectively a requirement of doing business in the European Union, even though it is not a legal mandate.
Efficiency
The process of becoming ISO certified forces you to objectively analyze your current internal processes, and can result in the implementation of more efficient and cost-effective production processes. ISO-certified production processes reduce waste, redundancies and safety hazards while ensuring that your business is environmentally friendly. These facts taken together not only reduce direct operating costs, but can also prevent financially damaging legal actions against your company.
International Business
Reliability and trust in international business relationships is an ever-present concern. With so much distance between companies on opposite sides of the world, it is difficult to truly ascertain whether your suppliers are following safe, humane and responsible business practices. ISO certification is a way to ensure your international business partners that your company adheres to international standards, and by the same token can reassure you that your foreign suppliers are credible and reliable as well.
Marketing
ISO certification can enhance your company's image and reputation in your industry and can provide many powerful marketing opportunities. Adherence to ISO standards will give you the right to market your business as environmentally friendly, which is an increasingly popular allure to consumers and business customers alike. According to www.sis.pitt.edu, many consumers are willing to pay premium prices for products that are manufactured in an environmentally friendly way. Advertising your certification status to international customers can provide opportunities in global markets that otherwise would not exist. You can also consider passing a portion of your cost savings on to your customers, allowing you to offer your goods and services at consistently lower prices than your non-certified competitors.
Profit
All of the advantages of achieving ISO certification ultimately contribute to your bottom line. Profits can be increased through the efficiency and legal safety of certified business processes. New international customers can be added to your client base due to the enhanced image that ISO certification provides. New market segments can be reached through marketing efforts that focus on environmental responsibility, and lower prices can drive up your sales volumes.
Considerations
ISO certification requires a rigorous and time-intensive process of internal analysis and re-design that can be daunting for many small business owners, but there are resources available to assist you in achieving your certification goals. Many consultants specialize in helping small- and medium-sized businesses in becoming compliant with ISO standards, and the International Organization for Standardization itself can offer valuable assistance with your initiatives (see Resource 1).