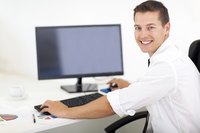 Thanks to competition from online discount brokerages, stockbroker commissions have trended much lower in recent years. If you want to determine whether you are paying too much, it is important to compare different commissions to find the average.
Online Brokers vs. Live Brokers
For the 20 discount brokerage firms rated by the Barron's Online Broker Survey 2014, the average stock commission rate was $6.52 per trade. These commissions ranged from $10 on the high end to $1 on the low end. Keep in mind that the low, published commission rate for your selected broker usually only applies to trades you make through the broker's online trading platform. If you need to talk to a live brokerage rep to complete a trade, the commission can be much higher. Expect to pay $20 to $50 or more for a broker-assisted trade. If you work with an investment advisor, you may be subject to a commission scale that depends on the number of shares and dollar amount.