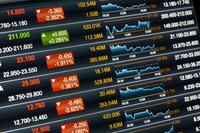 The OTC or over-the-counter stock market refers broadly to stocks sold by companies with market capitalization – total shares multiplied by the current per-share price – under $300 million. Unlike stocks sold on exchanges, such as the New York Stock Exchange, OTC stocks sell with limited regulation by and financial reporting to the Securities and Exchange Commission. OTC stocks often prove volatile and difficult to sell, which makes them unpredictable investments.
How the OTC Stock Market Functions
Even comparatively low-value companies often issue stock to raise funds. Because of their low capitalization, such stocks typically appear either on the OTC Bulletin Board or the "pink sheets." As with other stocks, investors purchase OTC stocks through a broker. The high-risk nature of OTC stock investments means that, by law, brokers must provide their clients with a disclosure detailing the potential pitfalls of such investments. OTC stocks are not sold through NASDAQ, which operates as a major exchange and imposes a variety of listing requirements, such as minimum earnings, assets or market capitalization.
The OTC Bulletin Board
The OTCBB functions as one of the two main sources of information about the available OTC stocks. The Financial Industry Regulatory Authority operates the OTCBB and provides a range of information about OTC stocks, such as pricing trends, annual statistics and stock issues. In order to qualify for inclusion on the OTCBB, FINRA requires companies to submit current financial reports to the companies' banking regulators, insurance regulators or to the SEC. Although not as stringent as the requirements for companies listed on major exchanges, the required financial disclosures do create some transparency and public information about companies on the OTCBB.
Pink Sheets
The term "pink sheets" is a holdover from when the National Quotation Bureau published non-OTCBB dealer-broker quotations for stocks on pink paper. Pink sheets now refers to an electronic system that lets dealer-brokers make bids and provide quotes on stock prices in real-time or close to real-time. Companies that appear on the pink sheets don't need to meet any specific requirements for listing, nor must they file financial information with the SEC.
Regulation and Risk
The regulations governing the OTC stock market, which range from loose to almost non-existent, make OTC stocks a very risky investment. The SEC warns that OTC investors should prepare for the real chance of a total loss on their investment. The unregulated nature of OTC stocks also makes them an excellent vehicle for fraudulent activities, such as pump-and-dump schemes and email spam. The limited amount of public information about many OTC stocks also facilitates high pressure cold calls, paid promoters, and press releases sprinkled with exaggerations. Although FINRA does halt trades for investor protection and the SEC suspends trade of a stock if a company's information appears questionable, investors cannot rely on such actions to happen before they lose their investments.