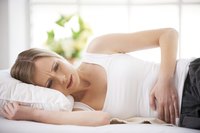 Digestive enzymes help improve digestion by breaking down nutrients and waste from food. Your body naturally produces these enzymes on its own, but in some cases, like after taking a series of antibiotics or if you're intolerant of certain foods, your digestive tract may be sluggish or unable to process certain food components. Some varieties are available over the counter, while others require a prescription from your doctor. Either way, side effects from digestive enzymes aren't common.
General Side Effects
Because of the role of digestive enzymes in your gut, you could experience some gastrointestinal issues after taking them -- diarrhea, constipation, gassiness, stomach pain or an increase in stool frequency. Sometimes this supplement causes headaches, blurred vision or dizziness as well. Other side effects include low blood sugar, hunger and muscle spasms.
Allergy Concerns
It's also possible to be allergic to digestive enzymes. If you're allergic, you can develop a skin rash, start itching, experience swelling in your face or throat, or have difficulty breathing. This is a potentially life-threatening condition, known as anaphylaxis, which requires immediate emergency care. Developing an allergy is more likely to occur if you take the supplement regularly, the American Academy of Allergy, Asthma and Immunology reports.