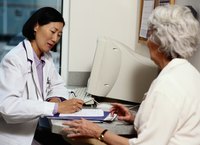 Medicare is a federal health insurance program that workers pay into throughout their working lives. If you are older than 65, you have certain disabilities or you have end-stage renal disease, you can qualify for Medicare. Rules and regulations change regularly for Medicare, and it behooves you to keep up with them.
Government Sets Payment Rates
One of the biggest areas that undergo significant changes on a regular basis is the payment structure for Medicare providers. The amounts paid to hospitals for inpatient stays, which kinds of medications are covered while you're in the hospital and how much long-term care and inpatient rehabilitation facilities are paid are among the focuses of changes that occur as legislators try to balance their budgets. Hospitals and health care providers must follow the regulations and keep up with changes as much as consumers.
Rules Governing Supplemental Plans
Medicare Part A covers inpatient stays. This is a benefit with no cost. Part B covers outpatient services and most doctor bills and is covered by a monthly premium. Prescription drug Medicare insurance covers medications for an additional cost through private insurance companies. In addition to the drug coverage, private insurers also sell supplemental plans to cover unreimbursed Medicare costs. Independent insurance agents must register with the state and follow strict rules aimed at protecting seniors.
Electronic Healthcare Records
To promote the use of electronic billing systems and to encourage providers to move their health care records to electronic health care systems, the federal government offers incentives to providers. Patients can expect to experience changes in their doctors' offices as more and more providers link into the electronic health care system.
New Rules Open Treatment Options
Federal Medicare rulings undergo regular changes, updates and amendments. The rulings are designed to improve the American system of quality health care for Medicare recipients by reforming the processes that divert resources away from direct patient care and by decreasing costs. In 2014 for example, rules governing ambulatory centers' ability to offer radiology services were reduced, dieticians acquired the capability to bill for their services in hospitals and rules governing transplant databases were restructured to make them more efficient.