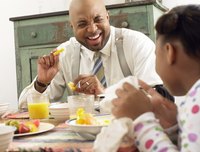 Therapeutic diets are a dietary intervention devised by a registered dietitian or qualified health professional as part of a treatment for a specific medical condition or diagnosis. There are a multitude of therapeutic diets, each based on an individual's nutritional needs.
Heart-Healthy Diet
A hearth-healthy diet will often be prescribed after a diagnosis of heart disease, a heart attack or high blood pressure. The guidelines of the diet include reduced saturated fats and sodium and minimal trans fats and fried foods. Saturated fats are found in poultry skins, visible beef fat, creams and full-fat dairy products. Additionally, the diet encourages fresh fruits and vegetables, low-fat dairy products and fish. The American Heart Association recommends including fish, particularly fatty fish, twice per week as part of a heart-healthy diet.
Diabetic Diet
Consistent carbohydrate consumption throughout the day and a modification of the types of carbohydrates eaten is the basis of a diet for a person with diabetes. For people with Type 2 diabetes, this diet can be more relaxed if a person has very good blood glucose control. The diet can also be very stringent in cases where the blood glucose is poorly controlled or the patient requires regular insulin injections. New diabetics can be referred to a certified diabetes educator, who specializes in counseling on the diabetic diet.
Renal Diet
Diets can be modified for patients with kidney diseases depending upon the severity of the disease and specific laboratory values. This diet is known as the renal diet. All or some of the following minerals and macronutrients can be modified on a renal diet: potassium, sodium, phosphorus, calcium, protein and fluid. The diet can vary greatly when used to treat the symptoms of stage 1 kidney disease as opposed to treating end stage kidney disease, and also differs depending on whether a patient is on dialysis. For example, in the early stages of kidney disease, a reduced-protein diet is needed to limit nitrogen waste buildup in the blood. When kidney function is severely compromised and a patient is on dialysis, often a high-protein diet is prescribed to maintain adequate protein stores.
Fiber-Modified Diet
Manipulating the amount of fiber in the diet can serve as a therapy for several gastrointestinal conditions. A low-fiber diet is appropriate for some conditions, or temporarily, to reduce the amount of bulk in the stool and minimize discomfort from gas and bloating. On the other hand, providing a high-fiber diet is therapeutic because, when combined with adequate fluid intake, it can improve fecal elimination and reduce straining during bowel movements. For example, during a flare-up of diverticulosis, an inflammatory bowel condition, a low-fiber diet is advised. However, after the acute treatment, a gradual increase to a high-fiber diet is advised. Whole grains, fresh fruits and vegetables, and beans are great sources of fiber.
Calorie-Modified Diets
Calorie-modified diets are advised to help a patient achieve a healthy body weight. In the case of obesity, a reduced-calorie diet is prescribed that may include low-calorie sugar substitutes, lean cuts of meat and use of fruits as a dessert. Contrarily, if a patient has a condition that caused him to lose weight unintentionally or have increased calorie requirements, a high-calorie diet will be recommended. Some modifications on a high-calorie diet are using whole milk, calorie-dense desserts, or shakes made with full-fat dairy products or nut butters.
Bariatric Surgery Diet
A very specific therapeutic diet is prescribed after a gastric bypass surgery. Guidelines are provided for the volume of food and liquid as well as the types of foods eaten in this diet, and the diet changes depending upon what stage of recovery the patient is in. The National Institutes of Health states that only pureed and liquefied foods can be eaten in the first two to three weeks after surgery. Soon, larger amounts of food and textures are tolerated, but a therapeutic diet must be followed indefinitely so as not to stretch out the new surgically reduced stomach size.