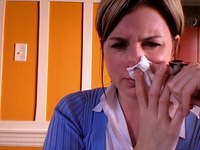 Sinus infections are somewhat common complaints when cold and flu season strikes. They produce a lot of unpleasant side effects, including pain, congestion and pressure. One of the more embarrassing side effects of sinus infections is the foul-smelling breath that often accompanies them.
Causes
Sinus infections are usually a complication that occurs in conjunction with some type of nasal congestion. This congestion could be caused by a virus or bacteria, like a cold, the flu or even just allergies. The congestion of mucus builds up in the nasal cavities and sinuses, allowing bacteria to grow. Occasionally, sinus infections are caused by abnormalities of the structure of the nose or sinuses. People who experience frequent infections may have nasal polyps or a deviated septum, which make bacteria growth more likely.
Symptoms
Symptoms of a sinus infection include congestion, stuffy nose, a feeling of pressure or pain in different areas of the face. Sinus infections can also cause headaches and toothaches. Another tell-tale sign of an infection is the presence of green colored mucus. The infection can also cause the breath smell rather foul, and sometimes a doctor can recognize a sinus infection from the odor of your breath.
Diagnosis
If you suspect a sinus infection, your doctor can perform a physical examination to look for any signs. They will most likely ask you to describe your symptoms and how long you have been feeling ill. The doctor may also look into your nose with a special device to check for fluid drainage and inflammation. Cultures of the mucus can be performed to look for bacteria, but often a sinus infection can be diagnosed just from examination.
Treatment
A true sinus infection is usually effectively treated with a course of antibiotics. If someone experiences frequent recurring sinus infections, they may be referred to a specialist to check for any abnormalities of the sinus and nasal passages that may require correction. When the infection is cleared, the bad breath that accompanies it will clear also. In the meantime, offensive breath can be fought by keeping the nasal cavities free of mucus. Gargling with saltwater and nasal irrigation devices can be effective.
Prevention
The best way to avoid the symptoms of a sinus infection is to prevent yourself from becoming sick in the first place. Because sinus infections are usually the result of colds or other viruses, wash your hands often and avoid sharing personal objects with others. If you suffer from allergies, keep them under control with medication to avoid the buildup of congestion.