Derived from the tiny, coated seeds of the shrublike herb Plantago ovata, psyllium husk is a rich source of dietary fiber. Psyllium husk is particularly rich in a type of fiber called soluble fiber, which combines with liquid in your stomach and digestive tract and forms a gel-like substance that slows digestion and stomach emptying. This may help you feel fuller longer and reduce hunger for more successful weight loss.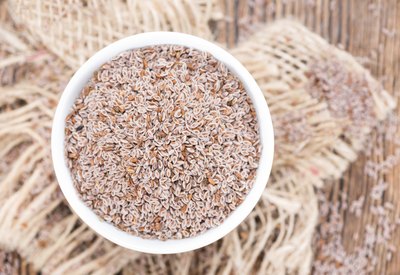 Nutritional Makeup of Psyllium Husk
Psyllium husk is usually sold as a supplement in powder form. One tablespoon of the powder provides only 30 calories but 7 grams of fiber. That's almost 30 percent of the daily value for fiber. It's equivalent to the fiber you'd get by eating 1/2 cup of boiled black beans. You'd have to eat about 12 cups of raw kale to get the same amount of fiber in 1 tablespoon of psyllium husk. Aside from fiber, psyllium doesn't provide any other nutrients.
Soluble Fiber and Weight Loss
Up to 70 percent of the fiber in psyllium husk is soluble fiber. Unlike insoluble fiber, which travels through the digestive tract mostly unchanged, soluble fiber softens and forms a gel or sludge when it comes into contact with water. When you add psyllium powder to your meals or mix it in a glass of water and take it before a meal, it helps fill up your belly. This full feeling may help you to eat less at your meal, and it may also help you stay feeling full for longer after a meal because it slows down the passage of food through your digestive system. Soluble fiber also helps stabilize blood sugar, which can help prevent spikes and drops in blood sugar that can lead to fatigue and increased hunger.
What the Research Says
A study published in April 1998 in the European Journal of Clinical Nutrition compared psyllium's effect on satiety and energy intake compared to a placebo in 14 volunteers. The researchers found that a dose of psyllium considerably reduced feelings of hunger and caloric intake. They also found improvements in post-meal blood sugar, insulin and triglycerides. Twelve years later, another study published in The Journal of Nutrition in February 2010 found that a high-psyllium-fiber meal also blunted glucose and insulin responses and had a small impact on satiety. The researchers discovered that a high-psyllium-fiber meal decreased the post-meal responses of hunger-signaling hormones and lengthened the response of satiety-signaling hormones in 16 healthy young adults.
How to Include Psyllium in Your Diet
Check with your doctor about how much psyllium to take. You can mix it with a little water, add it to a fruit smoothie or sprinkle it over your morning cereal. For weight loss, the University of Maryland Medical Center suggests taking it mixed with warm water 30 minutes before meals. Be careful not to add too much psyllium to your diet too soon. Increasing your fiber intake too quickly can cause digestive upset. When you increase your fiber intake, drink plenty of water to prevent constipation. Also, psyllium can interfere with the absorption of some medications. UMMC recommends taking psyllium an hour before or two to four hours after you take your medication.