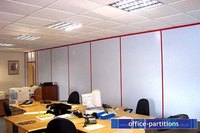 Office partitions are used in many businesses around the world. These structures offer privacy to workers and a quick way to change the workspace to fit future expansion and are less expensive than creating permanent walls. Modern office partitions can be purchased and installed in no time and have a long lifetime. They come in a variety of different types, from glass partitions that offer more light to the workspace to portable ones that can be changed and moved within a few minutes.
Floor-to-Ceiling Partitions
Floor-to-ceiling partitions are one type of partition used in offices to break up workspaces. Sometimes called "full height," floor-to-ceiling partitions don't fully enclose workers or stop visibility within the office. Floor-to-ceiling partitions are constructed out of metal with cloth covering the frame. These partitions can be rearranged, moved to another location or removed totally without much trouble. Floor-to-ceiling office partitions start in price from around $2,200 (as of 2009).

Glass Partitions
Another type of office partition is the glass partition. These partitions are usually constructed from aluminum and glass with or without a frame. Glass partitions are available in full or half-height panels, and Venetian blinds are generally installed to provide some privacy to the workspace. These partitions offer noise reduction as well as letting light flow throughout the entire workspace. Glass office partitions prices vary based on the type of glass, framing and other options you want.

Cubicles
Cubicles are the most basic and common type of office partition. Also sometimes called "half eight office partitions," cubicles offer some privacy as well as the convenience of being able to change the workspace configuration quickly by moving the cubicle walls. Cubicles are usually set up so there are four walls with an opening for people to come and go. The fourth wall is generally a half-wall. The workspace inside the cubicle usually contains a desk for working, a space for a computer and related hardware and a filing system. Cubicle office partitions start in price from around $150 per panel (as of 2009).

Portable Office Partitions
Portable office partitions are on rollers and can be moved quickly from one place to another. These office partitions are the least permanent option for offices and usually offer very little in noise reduction or privacy. Portable office partitions start in price from around $200 per partition panel (as of 2009).
Accordion Walls
Accordion wall office partitions are similar to portable partitions in that they can be moved quickly. These office partitions offer the full enclosure of floor-to-ceiling partitions, but they can also be opened and arranged in a variety of different setups by folding the panels out or closing them in. Accordion wall office partitions start in price from around $1,200 per partition (as of 2009).