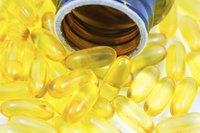 Cod liver oil is a source of essential omega-3 fats, but unlike other fish oil supplements, it also provides high amounts of vitamins A and D. Because of this, there is a risk of toxicity, especially in terms of vitamin A. The amount of omega-3 fats and vitamins varies by brand of capsules. Speak with your doctor before taking cod liver oil to make sure it is safe for you.
Side Effects and Interactions
Side effects sometimes experienced after taking cod liver oil include gas, belching, bloating, upset stomach, nausea and mild diarrhea.
Omega-3 supplements, including cod liver oil, may also interact with NSAIDs, blood thinners, cholesterol medications and diabetes medications, making these medications more or less effective and increasing the risk of adverse effects.
Toxicity Concerns
Just 1 teaspoon of cod liver oil has 100 percent of the daily value for vitamin A for adults, as well as 83 percent of the DV for vitamin D. Just 2 teaspoons provides the tolerable upper intake level for adults of 10,000 international units.
A 1-teaspoon serving contains more vitamin A than recommended for children under 9 years old and could cause toxicity symptoms. Vitamin A toxicity, or hypervitaminosis A, may result in dizziness, headache, irritability, liver damage, nausea, decreased appetite, bone pain, vomiting, itchy yellow skin, hair loss and vision changes.
Vitamin D toxicity is less likely because the tolerable upper intake level is 4,000 international units for anyone 9 years and older, which would require 8 teaspoons of cod liver oil.
Contamination Considerations
Look for a cod liver oil supplement that has been purified to remove potential contaminants, such as mercury, pesticides and polychlorinated biphenyls, or PCBs. These toxins have been linked to an increase in cancer and damage to the immune system. A study published in Neuro Endocrinology Letters in 2009 noted that low levels of contaminants, such as mercury, the pesticide DDT and PCBs, were found in some samples of fish oil capsules and cod liver oil. However, the authors concluded that consuming these supplements was still safe and healthy because the levels were below the maximum amount allowed.
Potential Contraindications
People allergic to fish or seafood shouldn't take cod liver oil because it can cause an allergic reaction, with symptoms including swelling, chest tightness, skin tingling, difficulty breathing, itching, rash and hives. See a doctor right away if you experience any of these symptoms after taking cod liver oil.
There is conflicting evidence whether fish oil, including cod liver oil, may increase blood sugar levels and low-density lipoprotein, or "bad" cholesterol, so people with diabetes or high cholesterol should check with their doctors before using fish oil supplements. The same is true for people who have blood disorders because omega-3 fats may thin the blood.
Pregnant women should use caution and check with their obstetrician about cod liver oil -- getting too much vitamin A during early pregnancy could harm the baby.