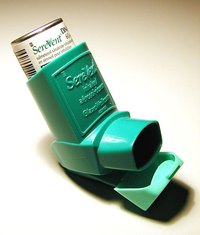 Asthma attacks can be triggered by a multitude of factors. Stress, environment and foods are leading causes of asthma attacks. Knowing what foods trigger an attack will help to avoid and reduce the amount that is consumed. According to the International Food Information Council, food-related asthma attacks are rare and account for only 6 percent of attacks in children and 2 percent in adults. While the actual trigger of an attack by food is rare, it is possible for patients with severe food allergies.
Seafoods
Seafood allergies are common in the United States. More than 2 percent of the population of the United States is affected by seafood allergies, according to the American Academy of Allergy, Asthma and Immunology (AAAAI). This is more than the more widely publicized peanut allergies. Seafood produces in most instances anaphylatic shock, but can trigger asthma attacks. The proteins in seafood is the cause and trigger of an attack or allergic reaction. Most generally, an attack will be severe. Those affected by the allergy should carry an ephinephrine pen, in case of accidental ingestion. This can be caused by cross contamination at restaurants or in severe instances inhaling the cooking substance.
Nuts
More than 3 million people in the United States are allergic to some form of nut, according to the AAAI. Peanut allergies are most common among those sufferers. Nut allergies can trigger an asthma attack or cause anaphylatic shock in patients. The oil from the nut is the root cause of the allergy, causing swelling of the airways. Examining food labels and taking precautions against cross contamination is necessary to avoid the oils that are produced by nuts.
Dairy & Eggs
Dairy and egg allergies are prevalent mostly children. While this childhood allergy can be carried into adulthood, patients usually outgrown it. For patients suffering from egg and dairy allergies, the likelihood of an asthma attack being triggered from consumption is high. For many, soy substitutes are available in place of dairy products, but can lead to other challenges, as soy also can trigger asthma attacks and food allergies.
Soy & Wheat
Soy and wheat trigger asthma attacks in as many instances as dairy and egg products. While severe reactions from soy or wheat products are rare, the opportunity for it is still possible. Anaphylactic shock is uncommon when associated to wheat and soy allergies, although an asthma attack triggered by this allergy can become severe.
Sulfates & Additives
Sulfates added into processed foods and occurring naturally have been shown to trigger asthma attacks. These can be found in lemon juice, processed potatoes, dried fruits and vegetables and pickled foods. Sulfates can be carried under the names sulfur dioxide, sodium sulfite, potassium bisulfite, sodium bisulfite, potassium metabisulfite, and sodium metabisulfite.
Additives such as food dyes, and preservatives such as benzoates and BHA and BHT have been traced to asthma attacks, but there is no clear evidence that this is an initial trigger. Monosodium glutamate (MSG) and aspartame also have been thought to trigger asthma related attacks, but again, no clear evidence supports this suggestion.
Treatments
There are no known treatments for food allergies. Patients that are known to suffer from a severe food allergy are encouraged to carry and maintain an epinepherine pen in case of accidental exposure. For those asthma patients who carry a food allergy burden with them, immediate access to a prescription inhaler is essential for treatment. The best medicine is prevention and knowledge of what triggers personal asthma attacks as the triggers and causes are different for all patients.