Curly hair can be beautiful and easy to care for on children if you know the basics of nurturing the hair and obtaining the right cut. Kids are constantly on the go and do not have the patience for long sessions of grooming and primping. Planning your child's hairstyle and cut ahead of time will ensure that hair is a source of fun and not one of struggle and stress.
Curly Hair Care
If your child has naturally curly hair, the first thing you need to do is learn how to care for it. No haircut in the world will look good on your child's head if you do not know how to take care of her hair. Curly hair tends to be drier than straight hair, so look for shampoos and conditioners that are moisturizing. Curly hair likes to tangle, so you will also need a leave-in conditioner to spray on wet hair, so that you can easily comb through it without damaging it. Stay away from fine-bristled brushes and instead opt for wide-toothed combs that are easier on delicate curly hair and don't cause it to frizz.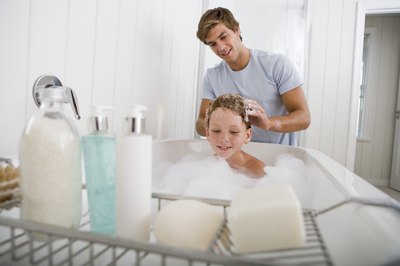 Short Styles
For younger girls and boys, sometimes a short haircut is the easiest to manage with curly hair. Some boys may even want a buzz cut to keep cool in the summer. As the curly hair grows back in, you can have your barber keep the sides short while the curly top grows out. You will need to ensure that you use leave-in conditioner daily to keep it from getting messy and frizzy. Some little girls like short haircuts, too, and girls' haircuts can be similar to boys' haircuts, with a few delicate touches around the face, such as soft bangs and a few longer layers. Your child's stylist can thin the hair enough so that the curly layers accent her face instead of detract from it. If your child has tightly curly hair, as many children of African descent do, consider a short Afro that can be easily maintained with regular oiling, trimming, use of a head scarf and a pick.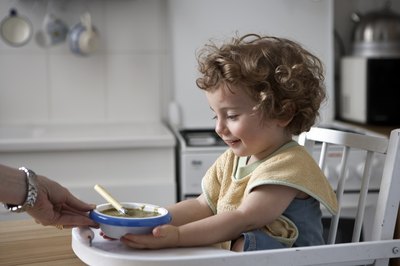 Long Styles
Long curly styles tend to work better on loosely curly or wavy hair than they do on hair that is very curly. Have your child's stylist create long layers throughout your daughter's hair, thinning away hair as she goes. The layers and thinning will help your daughter's hair to hang well instead of sticking out in a cone shape. Layers will also make it easier for you to comb through her hair after applying leave-in conditioner on wet hair. She should avoid blow-drying her hair when possible, as it can dry and damage her curly locks. Most curly hair with a good cut will look gorgeous when it is air dried with a bit of product in it.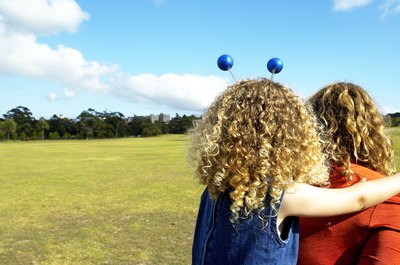 Braided Styles
Braided styles can be an excellent choice for little girls that have long, very curly hair. Ensure that your daughter's stylist gives her a cut that is mostly one length, as this is much easier to braid. Many African hair-braiding shops can cornrow your daughter's hair in an hour or two. She will need to sleep with a scarf on her head and have her braids redone every few weeks as her hair grows out. If you want to cornrow your daughters hair yourself, you can section it into rows and french braid each row from front to back hairlines, securing with pretty barrettes. Loose curly hair can still be braided and looks very pretty in a loose french braid with pretty tendrils hanging around the face. Your daughter is sure to feel like a princess.
Curly Styles on Straight Hair
If your little girl wants to wear a curly hairstyle but has straight hair, there are a few things you can do. Her cut should be a basic blunt cut that is shoulder-length or longer. Some people get a permanent wave for their children, but other parents worry about the chemicals in such treatments. If you want to avoid the chemicals, try setting your daughter's wet hair in braids or curlers. When her hair dries, you can let it down and it will be curly. You might help her by using a hot crimping iron on her hair, but be sure she knows not to touch the hot iron. Remember that unless your daughter has a perm, all of these styles come undone when they are wet, so you will want to avoid them on rainy days.