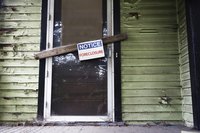 Homeowners facing foreclosure can remove their personal belongings from a home, but "fixtures," such as built-in shelves, copper pipes, or some appliances may belong to the lender. If you are preparing to leave your home and are unsure about what you can take with you, check your mortgage contract or talk to your lawyer. In some states, the practice of "stripping," removing fixtures from a foreclosed home, is a crime. Lenders can also sue former homeowners for the cost of repairing the damage caused by stripping.
You Can Take Personal Property
Items that are not "built-in" to the home belong to you. You can take them when you move or you can sell them to others. Such items include your clothing, electronics and jewelry, as well as stand-alone appliances, such as portable dishwashers and window air conditioners.
Leave Fixtures Behind
In some states, such as Nevada and California, it is illegal to remove "fixtures," or built-in items, from a foreclosed home. These are items that are permanently attached to the home and, if removed, would damage the home. Examples of fixtures include built-in microwaves, flooring, copper pipes and bathtubs. Even if your state's laws don't forbid removing fixtures, it is possible that your lender may try to sue you for damages. Leaving fixtures behind is the safest option if you want to avoid future legal problems.
Review Your Mortgage Contract
Check your mortgage contract to see if it includes the lender's definition of what a fixture is. Some items, such as ceiling fans and ovens, fall into a gray area between fixture and personal property, making it hard to determine whether you can remove them from the home. Your mortgage contact may include a clause that clarifies the issue.
Cash for Keys Deals
Your mortgage company may offer you a cash payment in exchange for moving out of your home voluntarily, instead of waiting for a sheriff's eviction. Check the details of your lender's offer. These offers usually require you to leave the home "broom clean," meaning that your home is clean, in good condition and that you've removed your personal property. The offer may also detail what appliances and other items you can take with you. If the offer or agreement is unclear, contact your lender for direction.