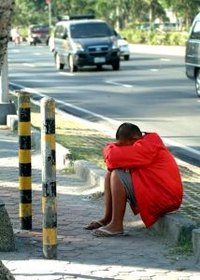 Most people have headaches within their lifetimes. Headaches are the symptom of thousands of medical conditions, but not all of them require a doctor's attention. According to "Migraines for Dummies" (Diane Stafford and Jennifer Shoquist, MD; 2003) any head pain that is vastly different from any you have had before is a sign that it's time to see the doctor.
Stroke
According to the American Heart Association, any severe headache on one or both sides of the head that comes without any warning or any known cause could be the first sign of a stroke or transient ischemic attack ("mini-stroke"). Other symptoms of a stroke include numbness in one part or one side of the body, along with confusion, problems speaking and problems seeing. Call an ambulance immediately because delay could be fatal or lead to paralysis due to brain cell death.
Other Symptoms
If you not only have a bad headache but a stiff neck, skin rashes, and a fever call a doctor immediately. This could be meningitis. If the headache is located in the eye area and you are nauseated and have visual problems such as seeing spots, a darkening around the edges of your vision or blurry vision, then call a doctor immediately. According to St. Luke's Cataract and Laser Institute, this could be glaucoma.
Time Frame
"Migraines for Dummies" also notes that if a headache or migraine lasts longer than 72 continuous hours, you should call your doctor. Also, if you had a head injury or concussion in the last couple of months, consult a doctor; you could have a neurological complication as a result of the injury. If you normally have migraines that lessen in pain after few hours but find yourself having a migraine that gets worse and worse, you should also call your doctor.
Age
Anyone over the age of 50 who has never experienced a severe headache or migraine and suddenly gets one should see a doctor as soon as possible. This could be stroke, a bad reaction to a new medication or a sign of a tumor or a brain aneurism. Any sudden jabbing or shooting pains in the face could be trigeminal neuralgia, which is a rare nerve disease but often can be treated.
Severity
If you experience the worst headache of your life that incapacitates you, call a doctor right away. This could be any one of a number of things, including head injury or a swelling blood vessel (aneurism). Only you will be able to tell if the headache you are experiencing is this bad, but when in doubt, it's best to call your doctor.