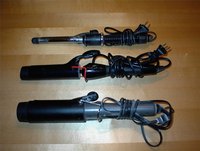 A head full of bouncy curls can be very attractive, so if you want a look that can be changed from day to day, consider purchasing a set of hot rollers or a curling iron. It's a great alternative to a permanent wave and also less expensive.
Speed
A curling iron is a good choice if you are pressed for time, as it can create curls quickly. Setting your hair with hot rollers (also known as heated curlers) is also fast, but you must leave them rolled for however long it takes to fully set the curl.
Waiting for the curling iron and hot rollers both take time, but hot rollers may take slightly longer. Be sure they are hot enough before you start; you don't want to find that your curls came out limp because the rollers weren't hot enough to do their job properly.
Size
Both curling irons and hot rollers come in many sizes, from 3/8-inch for soft, tight curls through 2-inch for smooth waves. When choosing a styling tool, take the length of your hair into consideration---it should be able to wrap around the barrel or curler at least 1.5 times.
For choices in size, heated rollers are ideal because a typical set yields many different sizes. One would have to buy three different curling irons for three different sized curls.

Portability
Hot rollers are very convenient; you can set your hair and enjoy a leisurely breakfast or prepare for your day without feeling rushed. With a curling iron, you are a prisoner of the cord, and it forces you to stay in front of the mirror. However, curling irons take up less closet space and are easier to pack for traveling.
Tips
The real trick to achieving successful curls with hot rollers is to remove them at the right time---if the rollers are not completely cool, the curls can break or pull and ruin their movement.
If using hair spray when rolling your hair, don't go higher than medium-hold---anything stronger will make roller removal that much more difficult.
For soft, conditioned hair consider using leave-in conditioner or a thermal styling spray; apply a silicone-based serum on your hair for shine once your style is set.
Dangers
If you want to create bounce and movement all the way up to your roots, lay a comb next to the scalp as you wind your hot rollers or curling iron---you do not want to burn yourself.
Never use hot rollers or a curling iron on wet hair; it can cause the hair to become frizzy, brittle or result in a steam burn of your locks.