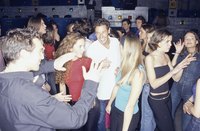 Nightclubs may look fun and glamorous, but it takes cutting through yards of red tape to make the excitement happen. In Philadelphia, Pennsylvania, for example, a nightclub may need up to 12 licenses and permits to open. The public often associates clubs with sex and drugs, so it's not surprising local governments set tough requirements. The exact rules vary from city to city, but there are some common patterns.
Demon Rum
A state alcohol license is usually a basic requirement for anyone who wants to open a nightclub. Acquiring one takes more than filling out the paperwork: San Francisco, California, is one of many communities that limits the number of licenses in the area. If the local licensing quota is already maxed out, you'll have to find an existing licensed holder who's willing to give his license up for the right price. The other option is to go alcohol-free, but those clubs are rare.
Having Fun
On top of drinking, dating and dancing, some nightclubs throw entertainment into the mix. This can be anything from showing sports events to live bands, and that may require a state entertainment license. San Francisco's DNA Lounge says online that even if you offer something unusual, the definition of "entertainment" is broad enough you'll probably need a license. Some states require a permit from any establishment that offers entertainment, others only need the permit if the business also serves alcohol.
Shall We Dance
Dancing is part of the nightclub image -- but surprisingly, letting patrons dance may take a license too. In New York City, for instance, bar and nightclub patrons can't dance unless the establishment has a cabaret permit. The city actively enforces the rules, fining or even padlocking establishments that don't cooperate. Richmond, Virginia, imposed a dance-hall licensing requirement for any business with dancing, be it restaurant, nightclub or bar, in 2011, despite protests from many club and bar owners.
You're Still Not Finished
Depending on your local government, you may have to acquire many more licenses. If you serve food, you'll need a license for that. If you want to offer your patrons a pool table or two to play at, some cities have pool licenses. Your city government should be able to tell you what state and local permits it will take for you to open in its jurisdiction.