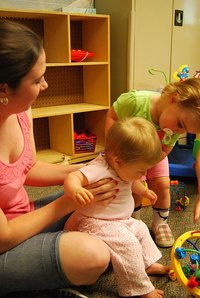 Opening a day care is an ideal business for former educators or those who love to teach and care for children. Although this can be a lucrative business venture, there are many requirements that need to be met in order to open a day care.
Location
You will need to choose a location that is spacious enough to accommodate the children, that is safe and in a convenient location. You can open a day care in your home if you have the space. If you plan to lease a building, try to rent space near elementary or middle schools, or business districts.
Get creative while looking for a day care space. Call your local medium-size companies and ask if you can set up your day care in their building. You might work out a discount on rent in exchange for providing the employees discounts on child care services.
Permits and Certifications
Whether you need a permit will depend upon the city and county where you plan to open your center, but most places do not require any special permit, just that you register your day care. It costs nothing to register your day care, and it will add you to your city's list of registered day care providers, which parents often look through when trying to choose a day care center. Some states also have day care requirements.
It is not required in all cities, but you should strongly consider having all of your staff members CPR certified.
You can also get special accreditation to boost your reputation. One of the most prestigious credentials your day care can earn is from the National Association for Family Child Care.
Inspection
Before opening your day care for business, you will need to have it inspected by the city. This is not always the case for in-home day care centers, but is usually required of out-of-home daycare centers. You should get used to inspections--they will happen regularly no matter what type of day care you own, and the results of your inspections will be publicly posted for potential clients to see on your state's registry.
Staff
Unless you plan to run a small in-home day care center, you need to hire staff. Put potential staff members through state and national background checks; make sure potential staff is not in the sex offender registry, and have prospective employees take a drug test. Some day care centers have job candidates take psychological tests as well. You can require that your staff have certain degrees or credentials, such as a college degree in early childhood education.
Equipment
The type of equipment you get is up to you--there is no required equipment that a day care must have. Toys, books, child-sized storage spaces, refrigeration for lunches, changing tables and cribs are common items that day care centers have. You may also want to get sleep mats or outside play equipment.