Vitamin B-12, along with the seven other B vitamins, plays a vital role in helping your metabolism function optimally. For that reason, B-12 shots and supplements are often marketed as weight-loss aids, with proponents claiming they speed up your metabolism and boost your energy. But according to MayoClinic.org, there is little evidence to support these claims. People who are deficient in B-12 may feel more energetic with a shot or supplement that brings their blood levels back to normal, but there is no association with increased metabolism or weight loss.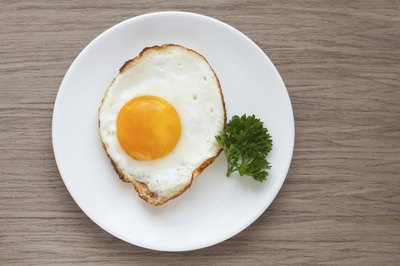 How B-12 Aids Metabolism
As a cofactor for enzymes needed for the metabolism of protein and fat, B-12 plays an important role in converting food to energy, which your body burns to power your daily activities and physiological function. B-12 is also needed to make red blood cells, which carry oxygen throughout the body. Without enough oxygen, you may feel tired and weak.
B-12 Deficiency
Fatigue and weakness are hallmark symptoms of anemia, a condition caused by too few red blood cells as a result of a B-12 deficiency. Other symptoms of a deficiency include diarrhea or constipation, loss of appetite, difficulty concentrating, numbness or tingling in hands and feet, and depression. People most at risk of a deficiency include the elderly, strict vegetarians, alcoholics and people with digestive disorders such as Crohn's disease.
Benefits of B-12 Supplements
If you are deficient in B-12 and your doctor advises you to take supplements or gives you a B-12 shot in his office, you may notice a distinct change in your energy levels. When you have more energy, you may be more active and exercise more, which can help rev up your metabolism. In fact, if you were deficient for a long time, you may have actually lost weight due to a lack of appetite. When you are no longer deficient and your appetite returns, you might notice a little weight gain.
Getting More B-12
A B-12 shot offers a dose of the vitamin delivered via intramuscular injection; supplements come in pill and sublingual tablet or lozenge forms. The former is preferable in instances of more severe deficiency. At the same time, you can increase your B-12 levels by eating foods rich in the vitamin, including organ meats, shellfish, meat, poultry, eggs, dairy, nutritional yeast and fortified breakfast cereals.
Better Bets for Boosting Your Metabolism
A few dietary and lifestyle changes are proven to help boost the metabolism. Exercise, especially resistance exercises such as weight training and yoga, are highly effective ways to rev your metabolism. Muscle takes more calories to maintain than fat, so the more muscle you have, the higher your metabolism. You might also try slightly boosting your protein intake. According to a study published in The American Journal of Clinical Nutrition in May 2008, protein digestion increases thermogenesis, or the amount of calories your body burns during digestion.