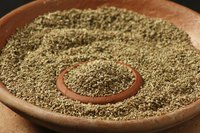 Thymol seeds, also called ajwain, carom or bishop's weed, are used in both cooking and herbal medicine. They get their name from the fact that they contain an oil called thymol in significant amounts. Research results on the benefits of these seeds are still preliminary, and there are some potential adverse effects, so don't use thymol seeds as an herbal medicine without first consulting your doctor.
Culinary Uses
Ajwain is used in Indian dishes, including some curries, giving them a taste similar to thyme but with a sharper flavor. It goes well with many vegetarian dishes and breads and is often used in bean dishes because it is thought to limit the gas-producing effects of these legumes. If you decide to give it a try, use it in small amounts because the flavor is very strong.
Uses in Herbal Medicine
In herbal medicine, thymol seeds are used for treating gas, diarrhea and indigestion, as well as rheumatism and the common cold. The seeds may help increase the milk supply of nursing mothers due to the phytoestrogens they contain. Some people also use the oil from these seeds to prepare toothpaste or mouthwash, and this oil is said to have an anti-fungal and antiseptic effect, according to Drugs.com. The evidence for these uses is still mainly anecdotal, however, as there haven't been many scientific studies to verify these effects.
Research Results
Although sometimes used to treat high blood pressure, thymol seeds don't appear to be effective for this purpose. Low doses of thymol seeds may cause a small, temporary lowering of blood pressure levels, but higher doses may slow your heart rate, according to a review article published in "Pharmacognosy Review" in 2011. Preliminary animal studies have shown that thymol seeds may help lower cholesterol levels, limit the formation of ulcers and help limit coughing, according to another review article published in the same journal in 2012. Further research is necessary to verify these effects occur in people as well and to determine a safe and effective dose.
Potential Dangers
These seeds may act as a diuretic and shouldn't be used by pregnant women, as they may bring on an abortion. Thymol seeds may lower blood pressure, inhibit blood clotting and slow your heart rate. People on blood pressure or blood thinning medications and those with heart problems should avoid using thymol seeds in amounts higher than those found in food. High doses can also be toxic and lead to death, according to Drugs.com.