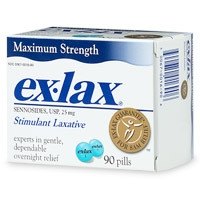 Sennosides are the chemical constituents of the herb senna. Senna is found in many over the counter laxatives and weight loss products. It should be used with caution, however, as it has definite side effects that can occur in many users, as well as the possibility for dependency.
Uses of Senna
Senna is an herb that has a powerful laxative effect. It works on the intestines by stimulating bowel movements and encouraging contractions in the intestines. It has been used for relief of occasional constipation and bowel cleansing. This purgative accounts for the main weight loss effect of some weight loss teas and supplements. Some common products containing senna or sennosides include Senokot, Ex-Lax and Super Dieter's Tea.
Benefits
The main benefit of senna is its cleansing effect. You will experience increased bowel movements while taking this herb. And, since a sluggish bowel is a common problem for those struggling with their weight, senna often provides a much welcome relief. However, it should be noted that the weight loss associated with taking the tea is a side effect. Without proper diet modification or lifestyle change, that weight can quickly return.
Adverse Effects
Senna or products containing sennosides should not be taken for more than 10 consecutive days. Because senna increases elimination and fluid in the intestines, it can create frequent, loose stools. It may even cause diarrhea. For this reason, it can also interfere with the absorption of certain nutrients or prescription medications. According to Pharmacy Health, sennosides or other laxatives have been known to create dependency. This means that over time, your bowels will become dependent on the chemicals, and you will require them to have even normal, regular bowel movements.
Precautions
The bottom line is this or any other product containing senna or sennosides should be used with caution. Pregnant women and children should not use senna. It is best to use this herb only for occasional relief of constipation, or along with a short colon cleansing program. It should not be used long term as a weight loss product. Safe, natural weight loss comes from healthy eating and exercise. While internal cleansing is a good start for a weight loss program, a total lifestyle change is the best way to ensure permanent, healthy weight loss.
Senna Dependency
For those who already suffer from laxative dependency, normal bowel function can be restored. Immediately discontinue using products containing senna or sennosides. Increase water and fiber intake. Products containing psyllium husk can be taken up to three times per day with plenty of water to increase bulk in the digestive tract and stimulate bowel movements. If a temporary laxative is needed, cascara sagrada is an herbal alternative that is considered safer for long term use.