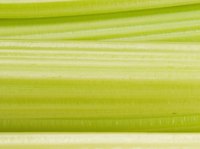 Celery has long been sought after for its health benefits -- it was lauded for its medicinal properties in ancient Egypt and Rome and first introduced to the Americas in the 1600s. Celery juice serves as a more concentrated source of vitamins and minerals than raw celery. It takes almost 2.5 cups of celery to make a 1-cup serving of celery juice, so you'll get the benefits of more than two servings of celery in one glass.
Low in Calories and Sugar
Celery juice offers a flavorful juice option if you're watching your calorie or sugar intake. Each cup of juice contains just 40 calories and just over 1 teaspoon of sugar, compared to 113 calories and almost 7 teaspoons of sugar in a cup of orange juice. If you were to switch out 1 cup of orange juice for celery juice each day for a year, you'd save enough calories to lose roughly 7.5 pounds of fat.
Vitamins K and A
Drinking celery juice significantly boosts your vitamin A and K intake. Each cup offers 72.6 micrograms of vitamin K, which makes up 81 percent of the K needs for women and 58 percent for men. A 1-cup portion of celery juice also boasts 1,113 international units of vitamin A -- 37 and 48 percent of vitamin A requirements for men and women, respectively. The vitamin K in celery juice promotes bone health and plays a role in blood clotting, while celery juice's vitamin A content supports your vision and boosts immunity.
Manganese and Vitamin C
Celery juice promotes wound healing, thanks to its manganese and vitamin C content. Both of these nutrients help you form collagen, a protein needed to heal wounds as well as promote tissue strength. They also offer antioxidant benefits -- vitamin C acts as an antioxidant on its own, while manganese makes up a part of the antioxidant enzyme, manganese superoxide dismutase. A cup of celery juice offers 7.7 milligrams of vitamin C and 255 micrograms of manganese -- 10 percent of the vitamin C and 14 percent of the manganese requirements for women, and 9 and 11 percent of the daily vitamin C and manganese needs for men, respectively.
Calcium and Potassium
Drink celery juice to load up on beneficial minerals, including calcium and potassium. Each 1-cup serving offers an impressive 644 milligrams of potassium and 99 milligrams of calcium -- 14 and 10 percent of the daily recommended potassium and calcium intakes, respectively. Both of these minerals contribute to your body's electrolyte balance, and they play key roles in nerve communication and muscle function. You also use potassium for enzyme activation -- it's important for carbohydrate metabolism -- and rely on calcium to support strong bone tissue.