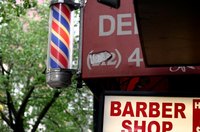 Most people (of a certain age) have seen a barber pole with colorful spiral stripes outside of a barber shop, although most modern salons have discontinued the practice. The history of the barber pole dates back to the late Middle Ages when barbers performed some surgical procedures and used the pole as a means of advertising their services.
History
According to NortheastMarketplace.com, the barber pole was originally used to designate the practice of a barber-surgeon who would perform various bloodletting procedures. Beginning in the late Middle Ages, barbers were responsible not only for cutting hair and shaving whiskers but for leeching, tooth extraction and other minor procedures.
According to ThamesSalon.com, academic surgeons who were closer to contemporary doctors were differentiated from barber-surgeons by their robes: academic surgeons were the surgeons of the long robe, and barber surgeons were the surgeons of the short robe. Barber surgeons were not permitted to perform major surgery and academic surgeons were forbidden to shave or cut hair. The scope of the barber-surgeons' practice is what gave rise to the design of the barber pole.
Function
According to BarberPole.com, the pole outside of a barber's establishment indicated that bloodletting procedures were practiced there. Generally speaking, bloodletting required the use of two bandages; one which would be twisted around the arm before bleeding and one which would be used after the bloodletting to bind the wound. Bandages would be wound around the pole outside the shop when they weren't being used, and eventually the real bandages were replaced by painted stripes.
Identification
The traditional barber pole seen often outside of barber shops is an easily identifiable pole with swirling spirals of red, white and blue stripes. For convenience the pole was painted and placed outside of the shop to attract customers. The earliest poles had a leech basin affixed to the top, but this was later replaced by a round ball which sits atop most barber poles today.
Theories/Speculation
According to ThamesSalon.com the red stripe on the barber pole indicates the bloodstained bandage, the white stripe indicates a clean bandage. Blue stripes were added in the United States, possibly representing the third color of the American flag. Another interpretation is that the blue stripes represent the color of blood veins.
Considerations
Although in the United States red, white and blue are used on many barber poles, the traditional colors of the barber are simply red and white. In 1540 when the United Barber Surgeons Company was created, all barbers were required to use a blue and white pole while all surgeons were required to use a red pole.