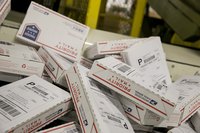 The United States Postal Service offers a number of options to get your package to its destination. If you're looking for something faster than First Class Mail, Priority Mail promises delivery within three days anywhere in the country and offers tracking as part of its service. For those looking for overnight delivery, Priority Mail Express provides guaranteed delivery by 3 p.m. the next day.
Mailing Your Item
Priority Mail can be dropped at the post office during its normal business hours, or you can request online at usps.com for your postal carrier to pick up your item when he delivers your mail. Free supplies like envelopes and mailer boxes are available at the post office or can be ordered online. If you order supplies online, the items will arrive with your regular mail, usually within seven to 10 days.
Price Varies
The rate for Priority Mail is based on the item's weight and shape, along with the distance it has to travel. Flat-rate shipping is available for anything under the 70 pound priority mail limit that fits into a USPS Priority Mail flat-rate envelope or flat-rate box. Forever prepaid postage can be purchased as well; it can be used at any time, even if postal rates subsequently rise.
Regulations and Restrictions
In addition to the 70-pound weight limit, the maximum combined length and girth is 108 inches. You're bound by the USPS restrictions and regulations on what can be mailed domestically. Check the USPS list of prohibited, hazardous or restricted items, which include such things as cigarettes and alcohol. If you're sending your item to a military post office, you'll pay the domestic price regardless, but you'll need to fill out a customs form and obey the more stringent military restrictions. Not all military post offices may accept Priority Mail Express packages.
Delivery Schedule
When you drop off your Priority Mail package, you'll receive the scheduled delivery date. This can be within one, two or three days, depending on how far the item is going. This date isn't a guarantee; you won't get your money back if it arrives late. However, the free USPS tracking that comes with Priority Mail allows you to follow your item and note whether it's close to its destination. Priority Mail generally is delivered Monday through Saturday, though occasionally package deliveries are made on Sundays during the holiday season.
Available Extras
Extra services are available for those looking for a little more security. Most letters or packages sent by Priority Mail come with $50 of free insurance, but you can pay more to increase your coverage. Paying for certified mail or signature confirmation confirms that your item was received. If you want your package guaranteed for overnight delivery, the USPS offers Priority Mail Express, which provides that as well as other services for a higher rate.