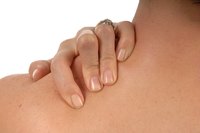 It can be difficult when a person begins feeling run down and is suffering from painful joints throughout their body. When these symptoms have lasted for several months or more, it is important to seek a diagnosis of the problem. Two of the most common causes of these symptoms are lupus and fibromyalgia.
Fibromyalgia Symptoms
According to the Mayo Clinic, fibromyalgia causes a constant, dull ache throughout the body. The pain in the joints occurs on both sides of the body at the same time. The pain is widespread and occurs in specific points, known as tender points, on the body. These eighteen points include: points at the back of the head at the base of the skull, points between the shoulder blades, points above the shoulder blades, points on both sides of the neck above the collarbone, upper chest below the collarbone, outside of elbows, upper hips, sides of hips and inside of knees. Other common symptoms of fibromyalgia include: insomnia, depression and chronic fatigue.
Lupus Symptoms
Lupus is a disease that affects both joints and the organs of the body. People who have lupus experience it in different ways; it rarely affects two people in exactly the same way. Individuals suffering from lupus usually have multiple symptoms at the same time. Common symptoms of lupus include: chronic fatigue, joint and muscle pain on both sides of the body at the same time, red and swollen joints, skin rashes or a butterfly shaped rash over the bridge of the nose and cheeks, photosensitivity, headaches, depression, heart problems, frequent low-grade fever, weight fluctuations, hair loss, kidney problems, anemia and blood vessel inflammation.
Diagnosing Fibromyalgia
To make a diagnosis of fibromyalgia, a physician tests the tender points for pain and swelling. A person who has at least eleven tender points and has had the symptoms for three months or more may be diagnosed with fibromyalgia. There are no blood tests that will confirm a diagnosis of fibromyalgia.
Diagnosing Lupus
One of the main differences between the two diseases is the ability for a physician to diagnose lupus by use of a blood test. Patients who test positive for the antinuclear antibody test may not need further testing if they also have at least four common lupus symptoms. Other blood tests that may be done for confirmation of the diagnosis include erythrocyte sedimentation rate (ESR) and C-Reactive Protein (CRP).
Warning
It is important for those who have any of the symptoms of lupus or fibromyalgia to see their primary care physician as soon as possible. Early detection of lupus in particular can help physicians create a treatment plan to limit the debilitating effects of the disease. Other diseases that mimic lupus or fibromyalgia may also present serious health problems, such as thyroid disease and rheumatoid arthritis, and require immediate treatment.