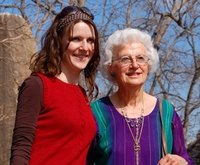 Menopause is a natural part of a woman's life. It is defined as beginning once a woman has ceased having a menstrual period for 12 consecutive months. In the United States, the average age for the onset of menopause is 51, although the normal range is from 47 to 53. Women who enter menopause prior to reaching age 40 are considered to be in premature menopause.
Symptoms
Prior to entering menopause, most women experience a time of transition called perimenopause, which on average lasts about four years. During this time, the hormone balance will be adjusting. Ovulation will become erratic and the menstrual cycle will be thrown off. A 47-year-old woman entering perimenopause may notice her periods becoming lighter and more time may elapse between them. She may experience night sweats, hot flashes, dry skin and mood swings.
Osteoporosis
Osteoporosis, a condition that causes bones to weaken and become brittle, is one of the primary causes of bone fractures among older women. This condition is exacerbated by menopause. Women in their forties, particularly post-menopausal women, should consult their physician about calcium and vitamin D supplementation, and exercise techniques to keep the bones strong.
Lupus
A study reported to the Arthritis Foundation concluded that women who experienced natural menopause prior to reaching 47 years of age were more than twice as likely to develop lupus as were women who were 53 years old or older when they entered menopause.
Depression
A study from the Obstetrics and Gynecology Epidemiology Center concluded that there was a greater association between depression and early menopause in women who entered natural menopause before reaching the age of 40. The study used a random sample of women who were naturally perimenopausal or menopausal after reaching 47 years of age as its control group.
Cardiovascular Disease
A Norwegian study concluded that late menopause beginning at age 47 or later could have beneficial qualities with regard to women's cardiovascular health. The study indicated a reduction of 60 percent in cardiovascular deaths compared to women who entered menopause earlier than age 47.