The lymph nodes in the back of the throat are called tonsils. Swollen tonsils in children are caused by infection. Tonsillitis is a common ailment that occurs when the tonsils becomes infected with a virus or bacteria. As a result, the tonsils become inflamed. The doctor will prescribe antibiotics if bacteria are causing the tonsil inflammation. If a virus is causing the infection, home treatment may be required. If treatment does not work, the child may need to have the tonsils surgically removed.
Symptoms
Swollen tonsils and a sore throat are the primary symptoms of tonsillitis. The swollen tonsils can be seen when you look down the child's throat. You may also notice white patches in the throat. The child's tonsils may be so swollen and sore that he will have a hard time swallowing.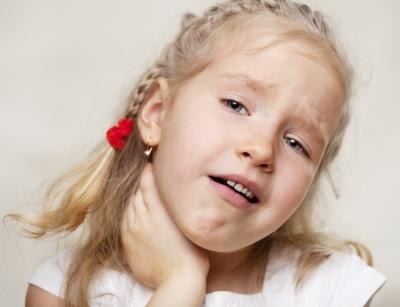 Diagnosis
The doctor will look in the throat and observe the swollen tonsils and patches of white. The doctor will also feel for other swollen lymph nodes in the neck area. A test will be ordered to determine if the infection is caused by the streptococcus bacteria. This involves swabbing the child's throat and sending the sample to a lab.
Streptococcus infection of the tonsils is known commonly as strep throat. Strep throat is treated by antibiotic therapy. If the throat culture cannot identify bacterial infection, a viral infection is the likely cause. Unfortunately, antibiotics are not useful in treating viral tonsillitis.
Antibiotic Treatment
Strep throat causing swollen tonsils will be treated by antibiotics. If the infection is severe, a single antibiotic shot may be given. A mild or a moderate infection will be treated with Penicillin V for up to ten days. Finish the entire course of antibiotics to prevent the bacteria from becoming resistant. Do not stop giving the medication just because your child's tonsils are no longer swollen.
Home Treatment
If the child's swollen tonsils are caused by a virus, only the symptoms of the infection can be treated. Sore throat sprays work well for quick pain relief. Medication such as Ibuprofen can help reduce swelling, treat fever, and relieve pain. Ask the pediatrician before you offer the child aspirin. Give hot soups and teas to sooth the throat and help draw out any pus. Have your child rinse often to prevent the tonsils from developing a secondary bacterial infection.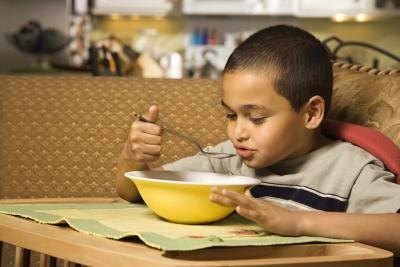 Surgical Treatment
Tonsillectomy, surgical removal of the tonsils, is rarely performed. According to the Mayo Clinic, removal of swollen tonsils is recommended if your child has swollen tonsils seven times in one year, five times for two years, or three times a year for three years. Surgery will also be offered if the swollen tonsils are making it difficult for the child to breath. Most surgeons perform tonsillectomy on an out-patient basis. Complete recovery should be achieved in three weeks.