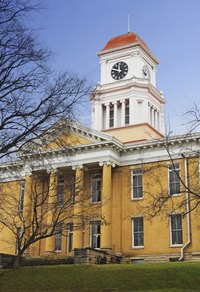 Liens give a lender or creditor the right to hold real estate as collateral for repayment of a debt. First and second mortgages are examples of voluntary liens placed on a property to secure the loan, whereas tax liens and judgment liens obtained by creditors are involuntary. Although any lien holder has the right to foreclose on the property that serves as collateral, such an action might not pay off, depending on the lien's priority status.
Recording Dates Matter
The date a lien is recorded determines its priority. Normally, a first mortgage is recorded first, so that lien takes priority over other liens. There are exceptions to this rule. For instance, federal tax liens and liens placed by local and state tax authorities have automatic priority over all other liens, even those recorded before the tax liens. Some states' laws also allow liens placed on property for special assessment taxes, contractor fees, and homeowners' association assessments to take priority over mortgage liens that were recorded earlier. Otherwise, liens recorded earlier have higher priority. Liens against real estate usually are recorded in the land records in the courthouse of the county where the property is located.
Paying Priority Debts First
When it comes to payment following foreclosure, a lien priority rule, "first in time, first in right," generally applies. For example, if a first-mortgage lender forecloses, any money left over from the foreclosure sale after that debt has been paid in full will be paid to junior lien holders. A judgment lien generally is junior to first and second mortgages, home equity lines of credit, and creditors' judgment liens that were recorded earlier. Although a judgment lien holder can foreclose on a home to get paid, mortgage liens have priority and would get paid first. Unless there is enough equity in the property to cover the mortgage liens and lower priority liens, the lien holder's cost of foreclosing can be a wasted expense.
Eliminating Security for the Debt
When funds from a foreclosure sale are insufficient to satisfy all of a homeowner's debts, the responsibility to pay off the debts still remains. If there is no money left over after the first-mortgage lender is paid, a second-mortgage lender or judgment creditors receive nothing. Although the foreclosure eliminates their liens against the property, it does not wipe out the debts. Foreclosure removes the liens from a property's title since the security for the debt no longer exists. Essentially, the debts remain outstanding but become unsecured debts.
Failing to Escape Creditors
Second-mortgage lenders sometimes sue in court to get paid when they receive little or nothing from a foreclosure sale. In some states, the law does not allow a lender to sue for money a borrower owes on a second mortgage following foreclosure, especially if the loan funds were used to buy the home. Depending on a state's laws, first-mortgage holders may be able to sue for a deficiency if the foreclosure sale does not cover the entire debt, but the process is complicated. Judgment creditors can collect the debt by garnishing wages, freezing bank accounts, or attaching the lien to real estate the person might own in the future.