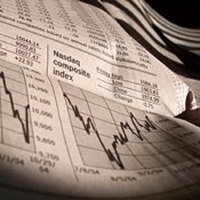 Mutual funds are one of the most common investments. One type of mutual fund is an index fund, which follows the performance of a market index, such as the S&P 500.
What It Is
The best way to explain an index fund is by example. If you open a book, often the first couple of pages will contain an index, which summarizes the content. Similarly, an index fund is a fund that "summarizes" the stock market or a big part of it. A proper index fund will have a large variety of stocks that track a particular market index.
Types
Many varieties of index funds exist. Common indexes tracked by the funds include the Standard & Poor's 500, the Dow Jones Industrial Average and the Wilshire 5000. After breaking index funds into categories based on the indexes they follow, they can be further categorized by the indexing techniques they use. Equities can be traded different ways, and some methods create more risk than others.
Pros
An index fund's main advantage is that it is inherently diversified, which helps decrease risk. When an index fund gains or loses value, it is usually not because of one stock, but because the overall market went up or down. Usually, an index fund will reflect the economy as a whole. Another advantage is that the fees for index funds usually are significantly lower than for other fund types.
Cons
An index fund's primary advantage also could be considered its main disadvantage, since the fund inherently can't outperform the stock market. Also, when stocks are bought or sold by the fund, to reflect changes in the index it is based on, the investor will face additional costs.
Alternatives
The alternative to an index fund is an actively managed fund, which seeks to outperform an index. With an actively managed fund, managers, trade equities in an attempt to improve returns. However, this also creates more risk.