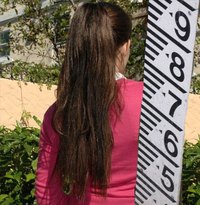 There are many good reasons to measure hair growth, including a simple desire to confirm that your hair is healthy. Measuring hair growth can also be important if you want to donate your hair to charity or treat conditions such as thinning hair, a receding hairline or partial baldness. In all cases, it is helpful to choose a method for measuring hair growth that is practical, convenient and effective.
Ways to Measure Hair Growth
A common, casual way to measure hair growth is by checking the hair length over a period of weeks or months. To gain a more accurate and precise measurement of growth, though, you may want to consider other factors, such as density (e.g., number of hairs per square inch), diameter (thickness of the hair), growth rate (length added per day/week) and the ratio of hair follicles in an active/growing phase (anagen) to those in a resting (telogen) phase.
Measuring Length
To determine how long your hair is, you can use a ruler, measuring tape or even a ribbon or piece of string (which you can then measure separately). Some people measure hair length from the hair line to where the hair falls in back, while others measure from the scalp to the hair tip, regardless of location. Both methods are fine. The key is to be consistent so you can accurately gauge your hair growth from one measurement to the next. Scientists can measure growth precisely by placing tiny "calibrated capillary tubes" over individual hairs.
Photography
One straightforward and useful way to measure hair growth is with photography. With digital cameras and photo software so common and affordable, it is simple to take a photos of your hair at different times and visually compare them. Be sure your photos capture the area you're interested in measuring (e.g., length, thickness in a given area), and take them in as similar a way as possible to make comparison easier. Scientists can use more advanced forms of photography such as macrophotography and epiluminescence microscopy (ELM) to measure hair density precisely.
Clipping or Dyeing
If you dye several hairs or cut them down to the scalp, it is easy to accurately measure growth over time. Measure the natural-colored part of the hair or the new growth, and divide by the number of days or weeks to figure out the growth rate. Obviously, this method is a little more drastic and noticeable than some others. The more precise, scientific version of this method is known as a trichogram.
Collecting Shed Hair
Everyone sheds hair as a natural part of the growth cycle. It is possible to measure hair growth by collecting, counting and recording the number of shed hairs and noting how the number fluctuate (e.g., fewer shed hairs can indicate growth). However, this method requires a lot of effort and is imprecise and indirect at best.
Cell Studies
If necessary, scientists can remove and study skin and follicle samples from the scalp to study their composition and activity in a laboratory setting.