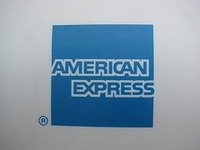 Originating in 1850, American Express introduced itself as one of the most successful delivery companies. The company has since taken some leading and innovative steps to become a world leader in the credit card industry and the world's largest travel agency. American Express provides an array of credit cards, one of which is the American Express Blue Card.
Can I Carry a Balance?
Many of the consumer and credit cards issued by American Express require that you pay your entire credit balance each month. Failure to pay the balance may result in penalty fees and additional interest charges. The American Express Blue Cash card provides you with the flexibility to pay your credit charges over time. The charges are still subject to interest rates and fees but do not penalize you if you choose to carry a balance.

Terms and Conditions
The annual percentage rate (APR) on your Blue Cash card is based on your credit approval and underwriting. Transactions are grouped into categories and each category is subject to its own interest rate. Depending on your approval status, you may have an introductory rate. This rate will apply to your purchases for the first six or 12 months. Thereafter, your standard APR will apply for all purchases. As of September 1, 2009, the qualifying standard APRs are 11.24 percent, 14.24 percent and 17.24 percent.

Other APRs
The Blue Cash card allows individuals to complete balance transfers. The transfer request must be requested at the time of application or within the first 30 days of the opening the account. The standard APR for balance transfers during the first 12 months of the account is 2.99 percent (as of September 1, 2009). Cash advances are also subject to an APR. Cash advances consist of any funds that are withdrawn against your credit by using an ATM or branch teller request. Cash advances will be subject to 25.24 percent APR, effective October 1, 2009. The default APR for cash advances is 27.24 percent.

Grace Period
Though you are not required to pay your entire balance each month, there are benefits when you do so. American Express provides Blue Cash cardholders with a 25-day grace period for purchases. In order for the grace period to apply, your previous month's balance must be paid in full by the applicable due date. Your balance for purchases is computed using the average daily balance.

Fees and Default APRs
The Blue Cash card does not have an annual fee. However, other fees may apply. Balances more than $250 are subject to a $39 late fee. If you make charges that exceed your credit limit, you are subject to a $35 overlimit fee. Dishonored check fees are $38. Stop payment fees are $29. Other fees may apply. American Express reviews Blue Cash card accounts monthly. If you fail to pay, at least, the minimum monthly payment in a timely fashion, your account can be deemed to be in default. Defaulting can also result from three or more over-the-limit activities and one or more dishonored payments. Default accounts are subject to default APRs.