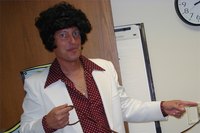 The 1970s were the era when style went out the window. Sandwiched between the counterculture revolution of the 1960s and the yuppie styles of the 1980s, it almost seemed as though there was no one guiding the ship. It was the "anything goes" era, and, well, anything went. Think polyester and gold chains. Think platform shoes.Think leisure suits. Think "Anchorman," the recent movie about a pompous 1970s newscaster. Then again, maybe it's better to just forget.
Three-Piece Disco Suits
Ever since the Bee Gees launched the disco era in 1975 with "Jive Talkin,'" men seemed hypnotized by the shiny, bright disco ball--to the point where they lost any fashion sense they might have had up to then. Three-piece polyester suits, generally in bright white or shades of cream, were the rage, with ultra-wide flared legs and super-tight vests. It's a look epitomized by John Travolta in the 1977 film "Saturday Night Fever." It's a look that's so bad, the only thing worse was...
Leisure Suits
Loosely based on the safari jacket, this fashion disaster also appeared on the scene in the mid-1970s, consisting of a stretchy polyester jacket and matching trousers, often in powder blue or bright yellow. From the Montgomery Ward Spring 1976 "Bicentennial Edition" catalog: "Matching knit flares of crisp 100 percent polyester stretch for comfort...outer shirt of easy feeling, crisp polyester fabric stretches for comfort and stays neat. Pipe trim on the chest pockets and yoke; contrast stitching accents, side vents, dyed-to-match buttons...." Who could resist?
Loud Shirts
Both leisure suits and disco suits were generally worn with polyester shirts, with loud, often clashing colors and patterns. Less gregarious disco kings could find quieter shirts of red with white polka dots, or blue with big white spots. Just the thing to wear to the office party in your bright-red convertible Eldorado.
Platform Shoes
Completing the look: platform shoes with heels as high as two to three inches off the ground. All the top designers made them, including Pierre Cardin. They were just right for pounding out that relentless disco beat on the dance floor, as everyone did the Hustle or the Bump.
Gold Chains
The final touch, for the 1970s man about town: a dangling gold chain, the precursor to today's "bling," often with a peace symbol or other ornament dangling from it. To show off said peace symbol or other ornament, the wearer left his shirt unbuttoned almost to the navel. And if a batch of chest hair was available to show off as well, so much the better.