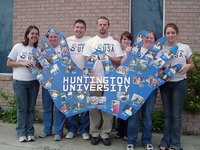 The purpose of team-building activities is to help team members learn about one another and work effectively together. During team building events, managers may be able to recognize future leaders and excellent communicators, and also see how people react under pressure. If you are planning a team-building event, start with a fun icebreaker to make people comfortable and relaxed.
Two Truths and a Lie
This game is an effective way for teams to learn about one another. Have each person think of two true facts about himself and also one lie. When it is his turn, he states the three facts, and the other team members try to discern which one is the lie. Besides giving the team the opportunity to learn about one another, this activity enhances communication and public-speaking skills.
Signature Game
Designed so teams can learn about one another in an engaging way, the Signature Game allows one-on-one interaction and enhances communication and participation. Give each participant a sheet of paper with broad categories written on it. The categories may include "someone who has appeared on television" or "someone who has met a famous person." Include five straight lines under the categories. Give the participants time to walk around to the other team members and try to obtain signatures on each of the five lines--one for each category. After the exercise, declare the person with the most signatures the winner.
Bingo
Bingo allows participants to find out fun facts about teammates. Prepare bingo cards in advance, but instead of numbers on the card, write fun facts that you know are true of the team members. Include facts like "has twins," "has a black dog" or "has been to Bermuda." Give participants a set time, and have them find those who meet the specific requirements. Instruct them that, when they find a person who meets a requirement, they should have that person initial that box on the bingo card. When someone fills up a line, she yells "bingo" and is declared a winner.
Introduction Beach Ball
Inflate a beach ball and have the participants form a circle. Instruct the participants that, upon catching the beach ball, they should state their name, their job, how long they've been with the organization and a fun fact, like where their favorite vacation spot would be or what their favorite TV show is and why. After someone catches the beach ball and responds, he then throws it to another participant who has to answer the questions. This activity helps energize the group by getting everyone up on their feet and active.
Hum That Tune
This activity helps people to relax and can be very humorous. Think of five easily recognized songs, like Camptown Ladies. Make slips of paper for each song and hand a slip to each participant. If you have 25 participants, make five slips for each song. At the designated time, have the participants open the paper and begin humming the tune. While participants are humming, have them walk around the group and find other participants who are humming the same tune and then form a group. Participants can stay in those small groups throughout the training.