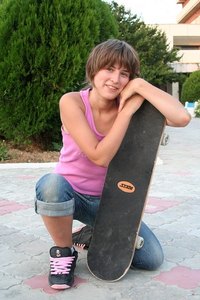 The skater-girl style is mostly inspired from a lighter version of edgy punk. Hairstyles need to be pretty, but not too controlled. There are all sorts of ways to wear your hair to achieve this look, and all you need are a few hair ties and, at most, a bandana or hat. Try to wear a limited amount of product, because too much of it can become gooey and gross if you are skating and you sweat. If you don't skate but still want that skater-girl look, use product at your discretion, but again, the point is for the style to appear relaxed.
Skater Ponytails
If you have long hair, try making a plain ponytail edgier by straightening your hair before you pull it back. This is a signature style worn by many female skaters. If you want to add a pretty change, try braiding random sections of the ponytail and securing them with a small elastic hair tie. You can even make the braids first and then pull them back with your hair, so the braid covers your whole head and not just the ponytail. Either way, be sure to leave a few strands hanging in front, and try not to make the ponytail too tight---it could be uncomfortable and cause you to end up playing with your hair more than you want to.
Short and Messy
Another fun way to pull off the skater-girl style is to wear your hear short and choppy, with many layers that can be straightened, pinned up in random sections or even molded into a Mohawk-shaped style. Short hair works great for girl skaters, because it causes much less hassle than longer hair and is easier to pull off as "careless chic." All it will take to glam up your messy shag are a few pretty barrettes on each side or a thin headband. When hair is still damp, apply a small amount of setting cream throughout before blow or air drying. When your hair is dry, straighten it and mold it carefully with your fingers so each piece appears messy but in place. If you have bangs, comb them to the side and secure with a bobby pin if you wish.
The Skater Girl Hat
A classic skater-girl accessory is a hat. You can wear a hat to hide a bad hair day or to spice up a low ponytail or even double braids. Wearing a hat skater style usually means having it shifted slightly to the side, so you can still have cute tendrils hanging out if you choose. Hats look great paired with low pigtails and ponytails that come out the small hole in the back of the hat. When buying a hat, choose a size larger than you usually would, so you can allow room for more styling underneath and can choose how you want to wear it, straight or to the side.
Bandanas
Another accessory used in skater-girl style is the bandana. There are various styles of bandanas in many colors and patterns, so you can choose one that's representative of the look you're going for. There are a few ways to wear a bandana. One way is to fold the bandana in half diagonally to create a triangle and tie it over your head like a scarf. Another way is to fold it carefully into a headband and tie it around the top of your forehead, looping around your ponytail or bun before securing. To accentuate your hairstyle, tie the bandana around your neck, old west style. The bandana is a great accessory, because it takes very little time to secure and often can make the look.
Add Some Girly to the Grunge
Headbands are a cute way to add sparkle to your hairstyle, but in skater-girl style it's important to only wear headbands that are secure on your head and take minimal adjusting. A good example is a cloth headband that wraps around your entire head. If you want to wear a plastic headband, just make sure it has the tiny teeth that grip your scalp and prevent sliding. Wear a headband with any skater-girl style, especially with ponytails and short messy hair. It's a way to instantly add a girly touch to the grungy style.