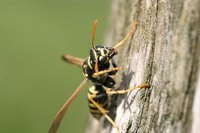 A sting is defined as a puncture from a stinger that injects venom into the victim. Bees, yellow jackets, hornets, wasps and fire ants all sting in defense. Most wasp stings are minor but painful. Other symptoms of a reaction to a wasp sting are redness, itching and swelling around the sting site. Wasp stings are temporary, so home remedies are focused on easing pain.
Removal
Get the wasp stinger out of your skin as soon as possible. The longer the stinger is left in, the more venom is released. Do not squeeze, pull or press the stinger. This causes the stinger to pump out more venom. Scrape the stinger out by using your fingernail. Gently lift the stinger slightly, and then scrape it away.
Meat Tenderizer
Mix one teaspoonful of unseasoned meat tenderizer with a few drops of water to make a paste. Apply this paste to the sting site. The enzymes in meat tenderizer dissolve toxins. Add more water to this mix and pour into a spray bottle. Carry the spray bottle when at picnics or anywhere wasps may be. Meat tenderizer must be applied on wasp stings right away. It does not work once the venom has penetrated deeply into the skin.
Lavender Oil
Put a drop or two of lavender essential oil on the sting. This reduces the pain of the wasp sting. Essential oil irritates skin, so it is important to use it on a small area. Do not us it on a large area of skin.
Other
Create a baking-soda paste and smear on the sting site. Baking soda does not neutralize the venom, but it can help relieve the itching and swelling. Gently dripping lemon juice or vinegar on the sting will relieve pain. Lightly rub an ice cube on the sting to reduce inflammation and swelling. An over-the-counter antihistamine can reduce the itching of the sting.
Emergency
Not all wasp stings are a minor injury. Some people have an allergic reaction to the wasp venom. An allergy triggers hives, wheezing, difficulty breathing, dizziness and nausea. Anaphylaxis is one of the worst reactions to wasp stings. It causes shock, unconsciousness and cardiac arrest. An allergic reaction requires immediate medical treatment.