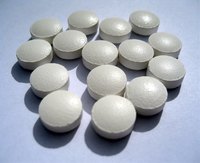 Metoprolol is a beta blocker drug that is sold under the Lopressor and Toprol XL brand names in the United States. This prescription drug is used for high blood pressure, heart failure and severe chest pain. Patients who have experienced a heart attack may take the drug to reduce the risk of future heart attacks. The drug is available in tablets. Metoprolol reduces blood pressure by affecting nerve impulses in the heart.
Eyes and Related Effects
Metoprolol may cause side effects that can affect vision or have other effects on the eyes. These effects require prompt medical attention. According to the Mayo Clinic, some people have reported blurred vision or double vision. People have seen halos around lights while on this medication. Some users have experienced a loss of vision, night blindness or tunnel vision. Yellow eyes or dry eyes can occur with this drug.
Nervous System and Related Effects
Some metoprolol users have noticed side effects that are related to the nervous system and require medical advice. According to the Mayo Clinic, some people have experienced unusual weakness, lightheadedness or fainting. Mood changes, mental confusion and short term memory loss can occur with this medication. Some patients have reported hearing, seeing or feeling things that are not really there.
Gastrointestinal and Urinary Effects
Gastrointestinal or urinary side effects can occur while on metoprolol. According to the Mayo Clinic, some people have experienced vomiting or nausea. Stools may have a clay colored, tarry or black appearance. Users may notice dark urine, an increase in urinary frequency or painful urination. Gas, bloating and indigestion are side effects of metoprolol. People may have bloody urine or bloody stools.
Other Effects
Metoprolol patients have experienced other side effects that also require medical help. According to the Mayo Clinic, users have noticed chest pain, shortness of breath or irregular heartbeat. Bloating or swelling of the extremities can occur with this medication. Tingling of the hands and feet, unusual weight changes and wheezing have been reported by some metoprolol patients.
Overdose
Patients should watch for signs of metoprolol overdose and get help from a doctor immediately. According to the Mayo Clinic, patients may notice a bluish color on their lips, skin or nails after an overdose. Extreme drowsiness or loss of consciousness is possible with high doses of this medication. A patient may have no blood pressure or pulse after consuming a large dose of this drug.