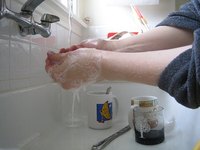 According to the Centers for Disease Control (CDC), proper hand washing is the best way to prevent the spread of illness. Keeping hands clean, especially at certain times, is the single most important thing that keeps our food, homes and workplaces safe. Technique matters as much as frequency: the correct hand washing method further halts the spread of germs that cause illness.
Discovery
Dr. Ignaz Semmelweis discovered the importance of hand washing more than 150 years ago. Dr. Semmelweis compared maternal death rates at two hospitals. One hospital had a mortality rate five times higher than the other. The hospital with the higher rate allowed laboring women to be treated by students who had handled corpses in class just before treating patients. These students did not wash their hands between these two activities. The hospital with the lower rate had instituted the practice of hand washing. Dr. Semmelweis introduced hand washing into the protocol of his hospital and the maternal death rate immediately dropped fivefold. Despite these findings, health professionals at the time scoffed at hand washing for another 50 years before conceding that Dr. Semmelweis was correct. His discovery is credited with saving thousands of lives.
When to Wash
Hand washing seems like a simple concept: if your hands are dirty, wash them. However, hands that harbor disease-spreading germs (e.g., the flu), often appear clean. The CDC states that hands need washed after using the restroom, after changing diapers and any time you sneeze, blow your nose or cough. In addition, always wash hands before eating and preparing food. If touching raw chicken and meats, wash your hands immediately after handling and before touching other foods or utensils.
Steps
Following simple, basic steps when washing your hands results in big health benefits. Use warm water instead of cold. Always use soap, never just water (any soap is fine as long as it makes a good lather). Wet hands completely and place the soap in your palm. Rub your hands together to make a lather and continue rubbing for ten to twenty seconds. Get in between fingers and on the fronts and backs of the hands. Rinse with warm water and dry hands completely with a clean paper towel.
Alcohol-Based Rubs
In a pinch, if water or soap is unavailable, the next best option is hand sanitizer or other alcohol-based rubs. These products should contain 60% alcohol. First, remove any jewelry to protect against damage. Pour a small amount (about the size of a coin), into the palm of your hand. Rub hands all over as you would with water and soap. Continue rubbing until the alcohol evaporates and the hands feel dry.
Warning
Sometimes people who wash their hands often (e.g., health care professionals) can get dry skin. This is easily preventable by occasionally using a moisturizing hand lotion. When using bar soap, remember to rinse it completely and place it in a holder that drains. This will help remove any germs left on the soap.