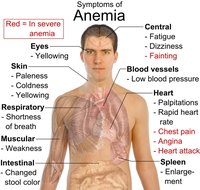 According to the National Anemia Action Council, the development of anemia is caused by a lack of red cells in your body. Without an adequate amount of red blood cells, oxygen cannot be carried to your tissues. As a result, you will initially begin to feel exhausted all the time, even with the slightest amount of activity. At times, anemia can be a temporary medical condition. However, if the condition is left untreated, serious medical complications, such as nerve damage or heart issues, can result.
Initial Symptoms
When you develop anemia, you might feel overly tired, weak and dizzy, You might have mood swings, become irritable or feel depressed. You can also develop brittle nails, chest pain, coldness in your extremities (hands or feet), and have an irregular heartbeat. According to the National Anemia Action Council, people with anemia develop peculiar habits, such as wanting to eat ice.
Other Symptoms
Other symptoms of anemia can include the inability to concentrate or perform simple tasks, such as being able to tie your own shoes. Some individuals might experience a loss of sexual interest. Headaches are also common, and many people with anemia develop pale skin because of iron deficiency. Muscle weakness, yellowing of the skin (jaundice) and your stool color becoming darker also can happen.
Complications
According to the Mayo Clinic, if you allow anemia to go untreated, the condition can lead to severe complications. Fatigue can become so severe that you might not be able to perform your daily routines, such as going to work. Anemia can cause a heart arrhythmia, where your heart will beat too fast or too slow. As a result, your heart has to pump more blood to overcompensate for the irregular heart rhythm. Eventually, this can lead to congestive heart failure. Other complications can include nerve damage, impaired mental processes--and death.
Prevention/Solution
Some types of anemia, such as iron deficiency anemia or vitamin deficiency anemia can be prevented with diet. Foods rich in iron, such as meat, beans, lentils, dark leafy green vegetables, and nuts, can help reduce your chances of developing an iron deficiency anemia. Foods that contain folic acid, such as citrus fruits, strawberries, bananas, and cereals and pastas are also beneficial. According to the Mayo Clinic, vitamin C can help increase your iron absorption of foods. Eating plenty of iron rich foods is important, especially for children who are growing, pregnant and menstruating women, vegetarians, athletes, and infants.
Caution
If you are taking an iron supplement in order to increase your iron requirements, use caution. Physicians usually recommend only those who cannot get enough iron from diet requirements to take iron supplements. Taking more iron than is necessary can result in what is known as iron overload. According to the Iron Disorders Institute, if your body consumes too much iron, your organs cannot function properly. This can lead to your organs becoming diseased. It is important to discuss with your physician the recommended course of treatment when you are diagnosed with anemia. Never assume that if you are fatigued, or experience symptoms of anemia, that taking iron supplements will resolve your symptoms automatically.