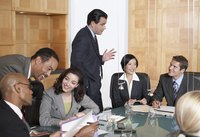 PC after a company's name doesn't have anything to with computers. Instead, PC is short for professional corporation, a type of company that provides a specific service that requires a license to perform. The businesses eligible to form corporations vary from state to state, but typically include lawyers, doctors, veterinarians and architects.
Professional Corporation Basics
Professional corporations must register with the Secretary of State in which they will do business. It can have just one owner or multiple members. The corporation can only perform the service its members are licensed to practice. Limited liability is the main advantage to forming a professional corporation rather than operating as a general partnership. A member of a PC is generally personally liable only for his own malpractice. The other members aren't personally liable for damages caused by another partner whose personal assets can't cover all of the judgment.