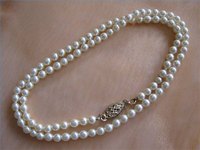 Pearls are a timeless fashion accessory. Moreover, they symbolize integrity, prosperity and elegance once only affordable to the aristocratic and wealthy class. With the passage of time, pearls have become more affordable and are no longer just for formal occasions. Majorica pearls are a flawless touchstone to authentic ones and are found in finer jewelry shops such as El Corte Ingles in Spain and Saks Fifth Avenue or Neimann Marcus in the United States.
Origins
In the 1890s, Eduardo Hugo Heusch, a German immigrant, sought to produce and perfect a method for creating artificial pearls, and while continuously improving his techniques, Heusch established a factory for manufacturing his simulated pearls in Manacor on the island of Majorica. Today, it is known as Perlas Majorica S.A.
Facts
The authentic components of fabrication are a closely guarded secret, but the process is not. It requires a special opaline glass as the pearl's core. The glass bead is then coated on the surface with approximately 30 applied layers of a paste made from fish scales, replicating the surface of a cultured pearl.
Geography
The headquarters of Majorica pearls is in Barcelona, Spain; however, the main factory is still located in Manacor. Distributors are situated in Spain, the United States and France. The pearls are sold in over 100 countries, including Belgium, Italy, Greece, South America and Portugal.
Features
Although, man-made, Majorica pearls are regarded as "organic" and are comparable in appearance to saltwater pearls. They are set in sterling silver or 14k gold in both traditional and contemporary or trendy styles. Pearls are manually strung double-knotted with a combination of silk and rayon fibers.
Size
Size is regulated by various elements, including the intensity of the flame, the length of melting time and the speed of the rotating copper wire. Popular dimensions are 6mm to 10mm but do go up to 16mm.
Effects
Once the pearls are removed from the wires, they are further sized and dipped into a natural pearl essence made from fish scales; giving the pearl its rainbow-reflective color and luster. After approximately 30 applied layers, pearls are dried in a time and atmospheric controlled environment. If they are determined high quality, the pearls are then drilled and assembled into jewelry. Approximately 25 percent of finished pearls do not pass inspection and are destroyed.