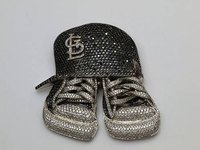 Diamonds represent love, romance, loyalty and royalty or wealth. For this reason, there are many styles of diamond jewelry along with various price ranges based on the color or lack of color, the weight, cut and clarity of the diamonds. Many questions have popped up regarding the actual value of black diamonds versus white diamonds as colored diamonds have gained in popularity. It is important to possess adequate knowledge of the true worth of each diamond before making a substantial purchase, as diamond jewelry tends to be expensive.
History
Diamonds have been mined and used for at least 3,000 years, according to costellos.com.au. They were thought to contain powers, such as healing due to their ability to refract light.
As time went on, it was found that white diamonds, more accurately colorless diamonds, were the most pure of the stones. Diamonds which are the purest "white," meaning colorless have no internal blemishes or inclusions. Inclusions are small particles that are trapped within the diamond during it's formation.
The word diamond actually comes from the Greek word "adamas," which means "unconquerable" according to The Mill Diamonds and Costellos.
Types
White typically indicates colorless when describing diamonds, however there are actually white colored diamonds. These diamonds get their color from the scattering of light and re-gathering of light within them, which is the same way milk gets it's white color.
Natural black diamonds do exist.They have many black plate-like inclusions believed to be made up of mostly graphite. The natural occurring black diamonds fracture easily which makes them difficult to cut, polish and finish.
The black diamonds that are commonly displayed in jewelry are actually enhanced diamonds that have been treated with radiation to achieve the dark coloring. They are actually a very dark green, which can be seen under fiber-optic light.
Geography
Diamonds have been found on every continent. The earliest recorded diamonds were found in India. Diamonds were found in Brazil during the 1700s. During the 19th century, diamonds were found in Africa. Australia has been a major source of diamonds since the 1970s.
While every continent has produced diamonds from many countries, including the United States, the majority of gem-quality diamonds come from South Africa.
Size
Black and white diamonds are both priced, at least in part, according to their size. Both are measured in carats. One carat equals one fifth of a gram. Besides the carat, the clarity, color and cut of the diamonds also contribute to the price.
Function
Black diamonds, whether natural or enhanced, are typically set with white, or colorless, diamonds flanking them. This arrangement is typically seen with titanium, platinum, silver or white gold jewelry because of the way the contrasting stones look against the metal. Yellow gold can be used, although it doesn't give the same stark contrasting appearance since yellow is a warm color.
Misconceptions
Black diamonds, at least natural black diamonds, are said to be more rare than white diamonds and thus more valuable or better. In actuality, each diamond will have it's own value based on the four C's (cut, color, clarity and carat), no matter it's color. The best colored diamond is actually a personal preference. In other words, whichever color of diamond you fancy is the best colored diamond for you, whether it's white, black, pink, blue, gray or green.
Potential
There have been a couple of notably famous black diamonds found. These include the Black Star of Africa which weighs 202 carats and the 67.5 carat Black Orlov which once belonged to a Russian princess.
The largest diamond ever found came from South Africa in 1905. It was named the Cullinan and was cut into nine large stones and about 100 smaller stones. The total weight was 3,106 carats.