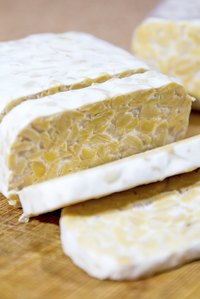 Isoflavones are a crucial group of phytoestrogens -- natural plant compounds found in your diet that may exert weak estrogenlike effects when you consume them. The major sources of isoflavones in the human diet are soybeans and soy foods. Manufacturers may add soy flour and soy protein to breads, protein bars, processed meats and meat substitutes. The amount of isoflavones in a given food can vary widely.
Grains, Fruits, Vegetables, Soy, Clover
Various grains, vegetables and legumes contain small amounts of isoflavones, but soy and soy foods reign supreme. Daidzein and genistein are the main soy isoflavones. Citrus fruits contain the isoflavone naringenin -- a precursor of genistein -- meaning it converts to genistein. Clover contains the isoflavones formononetin and biochanin A, which your body metabolizes to daidzein and genistein. Clover is used in teas and dietary supplements.
Isoflavone Amounts in Soy Foods
The amount of isoflavones available in soy foods varies depending on the brand. One-half cup of boiled soybeans contains approximately 47 milligrams of isoflavones, according to the Linus Pauling Institute. One cup of soy milk contains about 30 milligrams, 1/2 cup of miso contains roughly 59 milligrams and 3 ounces of tofu contains 20 milligrams of isoflavones.
Potential Heart-Health Benefit
Data suggests eating isoflavone-rich foods may promote healthy cholesterol levels, according to a review published in the September 2007 issue of "The American Journal of Clinical Nutrition." The researchers reviewed the results of 11 trials published between 1990 and 2006. They found that soy isoflavones significantly reduced total cholesterol and LDL -- a form of cholesterol that negatively affects heart health. People with high cholesterol saw a larger decrease than participants with normal cholesterol levels, according to the review.
Getting Isoflavones in Your Diet
An easy way to incorporate isoflavones into your diet is to substitute meat meals twice a week with soy foods such as tofu. You can also have miso soup with your meals or have natto -- fermented soybeans -- as a side dish. You can switch between using soy milk and cow's milk each week, and you can try other soy foods, such as soy yogurt.