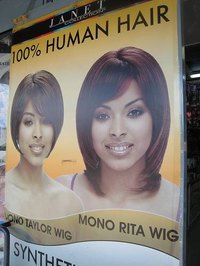 The fair market value of any item is based on the demand from a willing, knowledgeable buyer and a knowledgeable, willing supplier. The market for hair is quite high considering how long it takes to grow and the amount required for just one wig or hairpiece. Some wigs can cost between $3,500 and $6,000, depending on the color and the condition of the hair.
History
Wigs have been used since at least Egyptian times. Men and women alike would shave themselves to become more comfortable in the hot weather and replace their hair with wigs. It was cleaner and easier to maintain bald heads without the bother of lice or other head infestations. Wigs were worn every day in and out of the house. Long wigs were for royalty and noble ladies, while short wigs were worn by commoners. Egyptians were usually buried with their wigs because they believed wigs continued to be a symbol of importance in the afterlife. These wigs were typically made of human or animal hair.
Value
The value of hair varies. Demand and the market supply are the main factors. Sometimes dyed hair is acceptable, but bleached or highlighted hair is not. Hair that has not been treated will last longer in a wig piece and therefore is in more demand and will have a higher monetary value. Hair also needs to measure 10 inches to be used for wigs. Curled hair can be straightened so it fulfills the length requirements. The hair's quality, condition and length all factor into its value.
Uses
Hair is used to test products that will be marketed for use on hair. Many craft and art projects use human hair, as well. A company in China weaves imported hair into mats to protect the roots of plants from insects and weather conditions. Hair is often used to make fabric, which is then sewn together to make clothes. Some people have even made furniture and banners out of human hair.
Charity
Charity groups help children who suffer from medical conditions such as Alopecia areata, a hair loss condition, with wigs made of human hair. This condition has no known cure, and the efforts of groups such as Locks of Love help the children build self esteem by giving them a wig to cover their heads. Swimming, gymnastics and showering can all be done without fear of the wig falling off because of the special design used by Locks of Love that "locks" the wig to their head. Wigs are considered cosmetic and are not usually covered by insurance.
Selling
A few websites specialize in hair-trading, where anyone who needs money can sell their hair. Hairwork and The Hair Trader are two of the most common sites where hair trading occurs. They require that once the hair is cut it be wrapped in a ponytail or braided. Hair is even sold on sites such as eBay or Craigslist. It has been common throughout history for people to sell their hair in times of economic distress. One of the most famous instances is in Victor Hugo's "Les Miserables" when Fantine sold her hair to satisfy the demands of the Thernardiers who were raising the price for caring for her daughter, Cosette. Afterward, she sold her front teeth. Her action became a symbol for sacrifice, and the Thernardiers of greed. Today, there is much controversy over the heads of women and children being shaved in India so their hair can be sold.