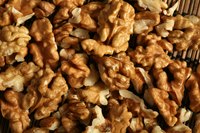 Walnuts provide a number of essential nutrients, including omega-3 fats, manganese, copper, phosphorus and magnesium. People sometimes think they need to avoid nuts, however, because they are somewhat high in fat and calories. However, walnuts contain healthy fats and have some health benefits, including potentially lowering your blood pressure.
Nudging Down the Numbers
Although walnuts aren't a cure for high blood pressure, they may help make it easier to maintain a healthy blood pressure level. A review article published in April 2014 in The Journal of Nutrition noted that including walnuts in your diet can reduce diastolic blood pressure, or the bottom number, by as much as 3 millimeters of mercury, which is the unit for measures of blood pressure. For example, your diastolic blood pressure could go down from 90, which is considered high, to 87, which is considered borderline high. These nutritious nuts may also help lower your cholesterol and decrease inflammation, further helping reduce your risk for heart disease.