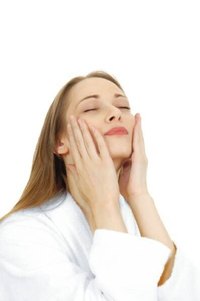 Sunbathing, acne, smoking and the unavoidable process of aging can all take a terrible toll on your skin. While there are any many creams and lotions to counteract skin damage, sometimes they are not strong enough to give you the results you want. Once reserved for movie stars and the very wealthy, professionally-applied options like dermabrasion, chemical peels and laser treatments are now widely available. The Obagi Blue Peel, developed by dermatologist Dr. Zein Obagi, is a medical treatment rather than a simple cosmetic one. It is not available in salons, and you should consult with your doctor before deciding whether or not this treatment is appropriate for you.
Function
An Obagi Blue Peel is a chemical peel, consisting of a 15 to 20 per cent solution of trichloracetic acid (TCA) tinted with blue dye. The dye contains glycerine to help it go on smoothly, and prevent it from being absorbed too quickly. The TCA solution is tinted blue to help the doctor ensure that it is applied evenly, with no missed spots and no variation in the thickness of the layers. A slight blue tint will remain on your skin for 10 to 24 hours. You might also experience slight redness as you heal.
Time Frame
The procedure takes between 30 minutes and an hour. The doctor applies one to four layers of the solution to your skin, depending on the amount of damage you have. There is a slight burning discomfort for two to three minutes after each layer is applied, but most patients undergo the treatment without any sort of anesthesia. Many doctors use a small fan to blow air across the skin and minimize stinging. Do not apply makeup for seven to 10 days after the procedure. Your doctor will recommend skin care products to use while you are healing. If multiple applications are needed, you must wait four to eight weeks between procedures.
Costs
Because it is a medical procedure that must be administered by a physician, in August of 2009 the cost of an Obagi Blue Peel was between $1,500 and $3,500 U.S. depending on the concentration of the formula, how many layers are applied and how long the procedure takes.
Side Effects
Within two to three days after the treatment, your face will begin to peel as though you had a light sunburn. After seven to 10 days, the peeling will stop and you should see brighter, clearer, firmer skin. Aside from initial stinging and the necessary peeling, there should not be any other side effects. TCA is not absorbed through the skin into the bloodstream, so there are no concerns about toxicity.
Considerations
On the plus side, many patients report a dramatic difference in the clarity and firmness of their skin. The downsides are the discomfort involved, the seven to 10 day healing time, and the cost. Depending upon the amount of damage and the results you want, the procedure might need to be repeated several times.