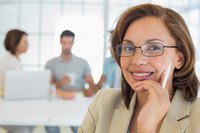 Eyeglasses are a flattering accessory when you choose the right frames for your face shape. Whether you want to keep it subtle or make a statement, use the shape of your frames to bring balance to your facial structure. Because square faces are characterized by angular lines and a strong jaw, glasses with rounded frames are particularly complementary. Consider your personal style, the shape of your face and your coloring when choosing new eyeglass frames.
Subtle Frames for Her
For an understated look, wear eyeglasses with thin rims. Even black rims can look subtle when they are thin. Select a rectangular frame with slightly rounded edges. The curves will soften angular features, while keeping the focus on your well-framed eyes. Styles that are completely or partially rimless also offer that subtle look. Go for a slightly more squared shape with a rounded, rimless bottom. A greater focus on the eyes and brow can balance a sculpted jawline.
Statement Frames for Her
Show your personal style in bold colors and shapes. Look for a larger frame that flatters your cheekbones and jawline. A wayfarer style is universally flattering, but especially so for square-shaped faces. The rounded bottom adds a soft touch to your features and a larger frame draws even more attention to your eyes. A cat-eye style makes a retro statement and adds width to your temples to balance the jawline. Avoid a thick, black frame if you have fair coloring. Try tortoise or translucent shades like army green.
Subtle Frames for Him
Because guys tend to have larger heads and therefore faces, you have other options besides rimless when you want a subtle look. Partially rimmed frames also bring the focus right to your eyes. Try a more rounded style for the perfect contrast to your strong jawline. If you're going for a full rim, silver metal is timeless and understated. Black or tortoise adds more emphasis to the brow line on partially rimmed styles. Or try a rectangular shape that is rimmed just on top.
Statement Frames for Him
Even a partially rimmed frame can still be eye-catching when the top rim is thick and colorful. Try on a rounded wayfarer shape with a bold black, tortoise or colored top rim. If you want a really thick frame, stick to a very rounded shape, which will look less harsh against your chiseled features than square frames. Opt for a thick black frame only if you have dark hair or skin coloring. Otherwise, choose a soft brown or translucent hue for your frames.