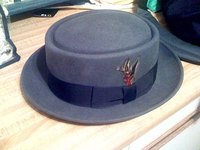 A pork-pie hat is named for its resemblance to a pork pie, that is, a meat pie of the sort common in British cuisine. The hat is round, with a flat top, or crown, and a short brim that can be turned up or worn flat. The hat can be made of various materials, including felt, velvet, and straw.
Earliest Pork-Pie Hats
The first hats of the pork-pie style were worn by young Italian men of the middle class throughout the 15th and into the beginning of the 16th centuries. These hats appeared brimless because the "brims" never jutted out but were folded up close and high on the crown.
Pork-Pie Hats in the Victorian Age
Men and women wore pork-pie style hats in the mid-19th century. Women's hats were small, often had long ribbons around the crown and were worn tipped forward on the head to provide room for hairstyles in the back. The men's hat was part of a typical ensemble of the man-about-town.
The Pork-Pie Hat in the Twentieth-Century
Numerous entertainers wore pork-pie hats in the mid-20th century, including silent-film star Buster Keaton, Dean Martin, Frank Sinatra, Lester Young and many others. Charles Mingus wrote a song for Young after his death called "Goodbye Pork Pie Hat."
Rude Boys, British Subcultures, and the Pork-Pie
In the 1960s, Jamaican "rude boys," young men from poor neighborhoods interested in gangster and jazz culture of the United States, began wearing suits and hats, including the pork-pie. As Jamaican immigration and culture spread to the United Kingdom, boys of working-class families identified with and adopted aspects of the "rude boy" lifestyle, including their attire.
The Pork-Pie Hat Today
Now as in times past, the pork-pie hat has been donned by entertainers, from Johnny Depp, Jude Law and Brad Pitt to Tom Waits, Justin Timberlake, and Kate Moss. It appears the pork-pie hat has timeless appeal.