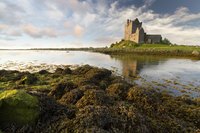 One of the greatest perks of working in a country other than your own is learning about the people and culture. Before you go to Ireland, learn some of the customs of the people. In your business dealings, being aware of implicit rules of etiquette will help in gaining the trust and respect of the Irish.
Meetings
While you will definitely want to be on time for a scheduled meeting, your hosts may be a bit late. The Irish are somewhat lax about punctuality, so if your client hasn't yet arrived, sit back and relax.
Before the meeting begins, be prepared for some small talk. Foreigners are sometimes viewed with suspicion, and if you don't participate you might be viewed as cold.
Make presentations succinct and not too flashy. The Irish do not have a lot of patience for long-winded business speeches, so keep it short and informative.
Negotiation
Expect your business transaction to take a while. The Irish are very loyal and typically give their business to other Irish businesses, though they will be open to new ideas. To gain trust, speak frankly and honestly and don't be too pushy.
The Irish despise arrogance and are more likely to side with someone who does not appear to have wealth or power. The underdog mentality is strong in Ireland.
Conversation
Never bring up the topics of religion or politics with an Irish client. The country's history of difficulty with the Catholic and Protestant churches, and its history of strife with Great Britain, make the Irish touchy on both subjects.
Always look an Irishman in the eye while speaking to him. You will be considered shifty and untrustworthy if you look away during conversation.
The Irish welcome arguments and strong opinions, so follow the lead of your Irish associates, and engage in interesting discourse.
Your Irish client may freely criticize himself, but won't take criticism from others well.
Entertaining Irish Clients
Ireland is well known for its love of Guinness, and drinking is a big part of the culture. When in an Irish pub, order a "pint" of Guinness, not a glass. And be ready to pay for drinks when it is your turn to buy a round. You'll be expected to do so.
While you're in the pub with your client, don't talk about business unless he brings it up first.
Tips and Taboos
Personal space is important to the Irish, so maintain a reasonable distance while conversing. Touching and hugging other men is taboo and will not be appreciated. Greet your client with a firm handshake.
It is not appropriate to ask women personal questions, or touch them, other than in a handshake. It is standard practice for men to open doors for women.
Avoid a know-it-all attitude and be straightforward in your dealings.