Symptoms of formula allergies in infants can occur immediately after ingestion or over the course of days or weeks. An allergy to formula is caused by the proteins contained in the formula, such as milk and milk based products or soy based ingredients that are difficult for an infant to digest. Babies with this type of allergy are not easily comforted and exhibit other colic symptoms of bloating and gas after feedings. Although formula allergies can be serious, babies typically outgrow this type of allergy by their second year.
Behavior Symptoms
Changes in behavior signal allergy symptoms in babies. Inconsolable crying and fussiness are common as the baby struggles with stomach pain. Sleep may be interrupted frequently due to the discomfort caused by the formula allergy. These behaviors display the baby's reaction to the formula and may be alleviated by holding and walking with the baby or helping her move her legs to relieve pain in the abdomen.
Gastrointestinal Symptoms
Gastrointestinal symptoms and discomfort are typical in formula allergies. Babies that are allergic to formula often develop colic symptoms including bloating and gas accompanied by uncontrollable crying; because of this, an allergy to formula can easily be mistaken for infantile colic. Spitting up or vomiting accompanies acid reflux, causing more discomfort. Infants allergic to formula also develop diarrhea, loose and foul smelling stools, constipation or bloody stools, according to lactation consultant Jan Barger.
Skin and Respiratory Symptoms
Outward signs of a formula allergy manifest as rashes, hives or dry, flaky patches of skin as in eczema. Hives or rashes on the face can cause swelling of the lips, mouth, tongue or throat, and can lead to serious complications such as obstructed airways. A red ring around the rectum that doesn't respond to diaper rash creams and remedies also signals a skin reaction to formula.
Congestion, coughing and increased mucous production, as well as other respiratory symptoms that include wheezing and impaired breathing as in asthma, may occur particularly in milk based formula allergies.
Complications
Babies with formula allergies that are undiagnosed or untreated for an extended period have problems gaining and maintaining weight as well as growing and developing at expected levels, due to lack of nutrition. Dehydration and anemia are complications that arise from the absence of necessary fluids and nutrients due to vomiting and digestive problems. Babies exhibiting respiratory impairment from allergy symptoms that lead to throat and airways swelling require medical attention to avoid anaphylaxis; having an EpiPen on hand at all times to deliver allergy relieving epinephrine may be recommended.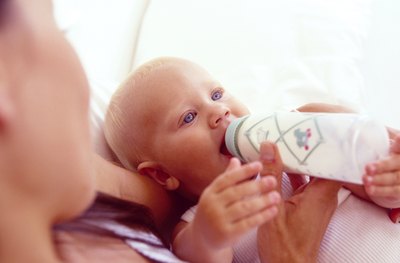 Breast Milk
Lactation expert Jan Barger recommends that new mothers breastfeed their babies to avoid possible formula allergies. Breast milk contains a more compatible protein than that found in cow's milk or a formula mixture, making it easier to digest. Barger also suggests that mothers breastfeed exclusively for at least 6 months. Breastfeeding moms of babies with milk allergies should limit milk and dairy products in their own diets to prevent their babies from having a reaction to mother's milk as well.
Formula Alternatives
The Mayo Clinic suggests that there are alternative formulas that suit the nutritional needs of infants if breastfeeding is not an option. Cow's milk is present in most infant formulas and should be avoided if babies are allergic to milk. Soy based formulas are an option for milk allergies, although babies can also be allergic to soy. Protein hydrolysate formulas are for infants with a family history of allergies to other formulas. This type of protein formula is easier to digest and is less likely to cause allergic reactions.
Suggestions
Consult your pediatrician if your baby exhibits any formula allergy symptoms, and before changing to another formula on your own. The doctor provides new formula recommendations based on your baby's specific allergy, so that allergy inducing ingredients are avoided.