Allergies occur because the immune system reacts negatively to some substance that other people do not react to. The U.S. National Library of Medicine says that scientists think allergic reactions could be genetic or environmental. In addition to standard symptoms like runny noses, sneezing, breathing difficulty or itching, different allergies cause earaches. Earaches result from inflammation in one or both middle ears because of fluid buildup. Doctors often prescribe medication to relieve earaches and reduce fluid retention.
Dust
Irritation from dust allergies causes earaches in many people. The American College of Allergy, Asthma & Immunology states that allergies to dust can occur at home and at school. Many students have allergic flare-ups from chalk dust from blackboards. To reduce these allergies, parents should reduce dust in the home and school-aged children should sit away from chalkboards.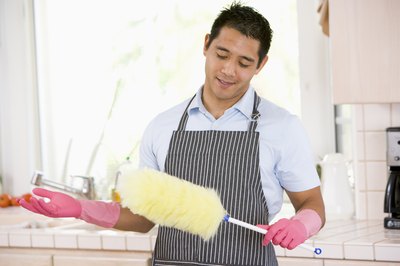 Pollen
Allergic reactions to seasonal pollens cause earaches. The Nebraska Wesleyan University Biology Department provides information of different types of pollen. These pollens include oak and other trees, grasses, weeds, ragweed and sage. NWU says these airborne allergies impact mucus membranes in approximately 50 million people in America and affect respiratory and sinus tissues. This leads to earaches and sinusitis.
Mold Spores
The University of Rochester Medical Center says that mold and mildew allergies occur year-round. Damp environments cause indoor and airborne mold development. Mold comes from old books, bathrooms and dead leaves. NWU says that airborne mold spores cause respiratory sensitivity and cause earaches in people with this allergy.
Food Allergies
Food allergies cause earaches in addition to other nasal and skin symptoms. Pediatrician Dr. Alan Greene says the list of five common food allergies includes cow's milk, soy, eggs, peanuts and wheat. Food allergies cause earaches, nasal problems, watery and red eyes, and other respiratory symptoms in addition to itchy skin. These symptoms disappear after the allergen-causing food is removed from the diet.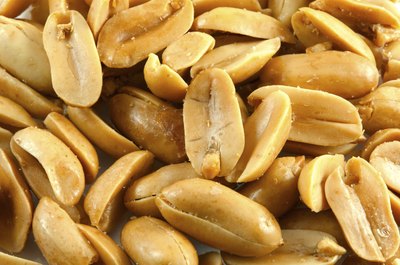 Pet Allergies
The Humane Society of the United States says that about 15 percent of Americans have allergic reactions to cats or dogs. The allergies do not occur because of animal fur; they develop because of animal skin cells that slough off and float in the air or get on home furniture. Pet saliva and urine also cause allergies. The American College of Allergy, Asthma & Immunology says that it causes earaches because symptoms mimic colds and respiratory conditions. Allergies can cause ear popping and ear itching. Keeping pets clean and restricting them from furniture and certain areas of the home reduces allergic reactions.