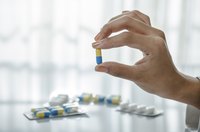 Thermo Burst is a dietary supplement released through the GNC Pro Performance line of products, which is now referred to as Thermo Burst Hardcore. Thermo Burst is a thermogenic dietary aid, which is supposed to increase metabolism and give users an energy burst. These claims have not been evaluated by the FDA. If you are considering using Thermo Burst, review all of the potential side effects to ensure that this product is safe for your use.
Recommended Usage
The manufacturer of Thermo Burst recommends that you take the supplement one hour before beginning an exercise workout in order to have energy. The recommended dosage is three capsules, and not exceed more than three capsules in a single 24-hour period. Consuming more than this amount will increase your chance of developing side effects.
Side Effects
Thermo Burst contains herbal extracts that contain high amounts of caffeine -- 400 milligrams per serving. Too much caffeine can cause side effects such as headache, difficulty sleeping, nervousness, heart palpitations and high blood pressure. Severe headaches also may develop if you stop taking Thermo Burst as your body experiences caffeine withdrawal. Thermo Burst also contains ginger, which may cause mild side effects such as stomach upset, burping or heartburn. Ginger may also enhance the effects of certain medications such as blood thinners, antidiabetic medicines or those that lower blood pressure. If you are on medication, get your doctor's approval before using Thermo Burst. Another potential side effect of Thermo Burst is dehydration.
Potential Allergies
Thermo Burst is made up of cellulose, calcium carbonate, veggie acetoglycerides, ethyl vanillin and brown coloring. If you have a sensitivity or known allergy to any of these products, you should avoid Thermo Burst to prevent an allergic reaction. Symptoms of an allergic reaction may include hives, itching, swelling and difficulty breathing. These side effects require immediate medical attention.
Start Slow
Avoid using the full dosage when you first start taking Thermo Burst. Slowly increasing your dose may help you adjust to the supplement and reduce the chance of developing side effects.
Precautions and Warnings
If you use GNC Pro Performance Thermo Burst, make sure to avoid other caffeinated foods and beverages to reduce your chance of developing side effects. Also, avoid Thermo Burst if you are pregnant, nursing or suffer from a serious medical condition. These conditions can put you at risk for harmful side effects if you use Thermo Burst. People with heart conditions especially should use Thermo Burst with caution since Thermo Burst can increase blood pressure and cause heart palpitations.